So I'm always looking for cool stories about couples of colors and their interesting, different, and unique ideas for all things wedding… So I don't know how I missed this couple.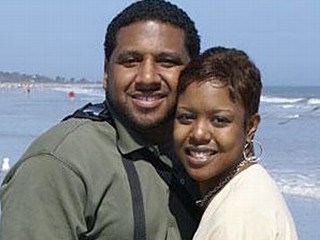 That is Vanessa Caldwell and Cole Parker. And this lovely couple are doing what all of us Bab's have done or plan to do: planning a wedding. And like a lot of us they found themselves in a bit of a financial crunch as the wedding planning began… As wedding couples learn quickly… Weddings are expensive!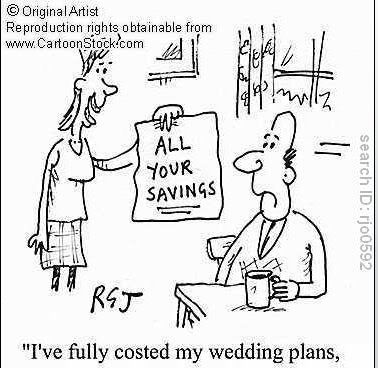 You know what I say, what exactly are they putting in wedding cakes that makes them cost 20 bucks a slice? For that much moola, I need some platinum-plated Fondant and Diamond encrusted Buttercream or this….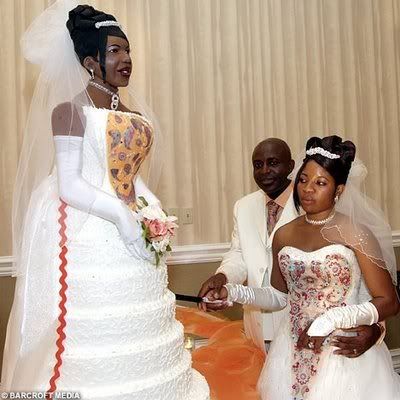 but I digress… Also please note… Even the bride is giving the cake a mean ass side eye… Cause let's be honest that cake is a FAIL! Ya'll know I don't judge… but LAWD that cake is a mess o' hotness!
Alright back to Vanessa and Cole: So Vanessa and Cole have apparently just started a business and are putting all their money into building their business. Then the reccesion non-fabulousness that we all know about hit and the wedding planning budget got tighter and tighter! So they got, ummm, creative in coming up with a way to finance the wedding they wanted. According to their website, Dollar for a wedding,:
Many people attend weddings but do not get a chance to contribute to the blessing of the marriage…. Cole and Vanessa have created this site to allow you to invest in the celebration and become part of the wedding plans.
So they set up that site to let their wedding guests foot the bill for the wedding. The site accepts paypal donations from $1.00 to $100.00.
They've been getting some press about the plan and some backlash as well…
In the ABC News  article I read, the bride said "We don't need pots and pans or a registry, we need a wedding," she also said, "I've been married before, so I have the $1,000 china and whatnot; I didn't want our guests to feel the need to buy that kind of stuff"
As of the last tally I could find the couple had recieved about $750. But  according to their website and blog they had also recieved a bunch of corporate sponorships for the big day also.  They've gotten sponsorships for photography, a venue for the wedding( but they have to have the wedding on a Wednesday at 2pm), personal training, DJ's, wedding dress, boquet, a Public Relations firm ( ??? ), event design, coordination, candy buffet design,  and more!
According to the site,"They are still in need of a photographer, attire for Cole and ring bearers, dress for flower girl, linen, liquor sponsor, programs and limousine. "
Vanessa said, that since it is the second marriage for them both they wanted to go the the Justice of the Peace but their friends and families wanted to share in the day with them and their families were the ones who came up with the idea.  But some folks got a lot to say about their idea! (Aren't the comments to the posts the best part now a days? )
The wedding is set for November 11, 2009 for approximately 75 of their friends and family, sponsors will have advertising signage at the wedding and have signage placed into a giveaway bag that will be given to all the guests.
Vanessa said that  she is sure that with the sponsorships and cash contributions she will be able to have a perfect and inexpensive wedding.
So what do ya'll think? Is this something you would do to help offset costs in the wedding.  Keep it real! I want to hear what the Bab's have to say… I wonder if Vanessa is a BAB? If she is I'd love to speak to her and find out her thought on this process and have her share its ups and downs with the women of Brownandbridal.com .
Stay fierce, fabulous, and fiscally responsible,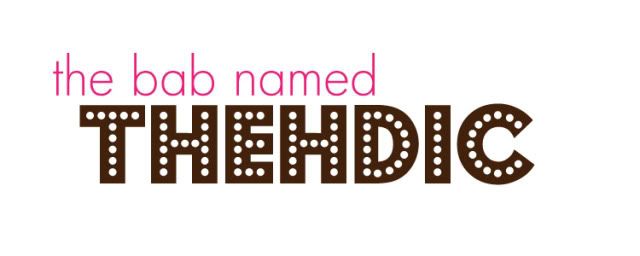 Posted by thehdic @ 26 October 2009