Posted by Admin @ 5 June 2008
3 comments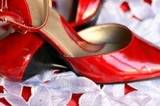 Hello lovelies!!
Welcome to the family! Brown and Bridal is  so many things to so many people… Its a group wedding and life blog, its a community forum, its a resource, its a GREAT way to pass the hours at work…lol.
Brownandbridal.com is a site that is open to all brides but dedicated to serving the very specific needs of brides of color as the navigate through the wedding planning maze and beyond. Its mission is to offer great tips, tutorial, advice and community that all women need… Especially when going thru every brides personal hell…. RSVP's.  The site features daily updated blogs by several women as they pass from engaged to wives and beyond.
For any other questions or comment about the site please contact us at brownandbridal@gmail.com.
Happy planning!
Posted by Admin @ 5 June 2008