So you've already got your own wedding dress fabulousness all picked out and now it is time to pick out something for your dear, dear girlfriends to wear as they troop on down the aisle in support of you and your oh so dreamy hubbie to be… The decision is never easy! But your intention should ALWAY be to Fierce Ya Friends! Hook them up with something unique, fashion forward, fierce! But err um some of you…. Some of you take it a wee bit, Ahem, TOO FAR…
That's not Okay…
That is DEFINITELY. NOT. OKAY.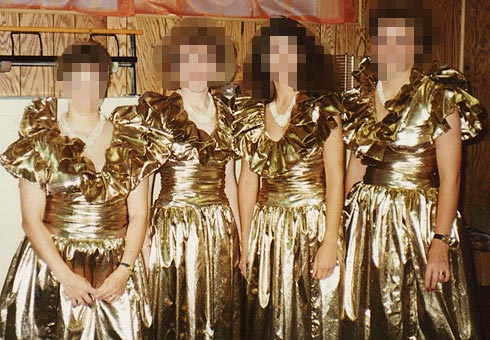 And this… Well, THAT is enough for me to have never spoken to your tail again!
When choosing bridesmaid dresses you want your girls to be comfortable, beautiful, and unique! That's why I'm really feeling some of the new trends in bridesmaid dresses…
I love the wrap dresses cause then each bridesmaid could tailor her dress to fit her body type and desired look while keep in the same vein of dress!
I love how David's Bridal is doing a great job of dealing with different figure types, with their bridesmaid dresses also!
I love the idea of a wedding party looking like that one… They all look like they go together but have their own flair, fashion sensibilities, and fit!
Stay Fierce, Fabulous, and Fierce-ing your friends!
Posted by thehdic @ 1 July 2009