So in honor of our Weekly Meal Planning for divas Mexican Food theme! I thought I would share my most fabulously simple guacamole recipe!!! Its my first post doing a recipe over here!!! Its an oldie but a goodie!
So I was going to show you how to make my most delish fish tacos with avocado cream sauce, adobo rice, and honey butter roasted sweet corn…

Honestly that meal was orgasmically delicious
But that was a little ambitious for my first posting so I went with something basic delicious and very,very easy to make. And its good enough to make for other folks and have them sweating you for the recipe. For the love of God and all things holy don't give it to them… Just smile and politely tell them its and ancient family secret that you would be happy to make for them for the low low price of 19.95.
Well that's just ridiculous. Tell your friends.. Share the love and the GUAC! That's right folks its a delunkcious guacamole recipe that is fast and gooooodd!
Ladies and gentleman! I give you "the GUAC"!!
The players: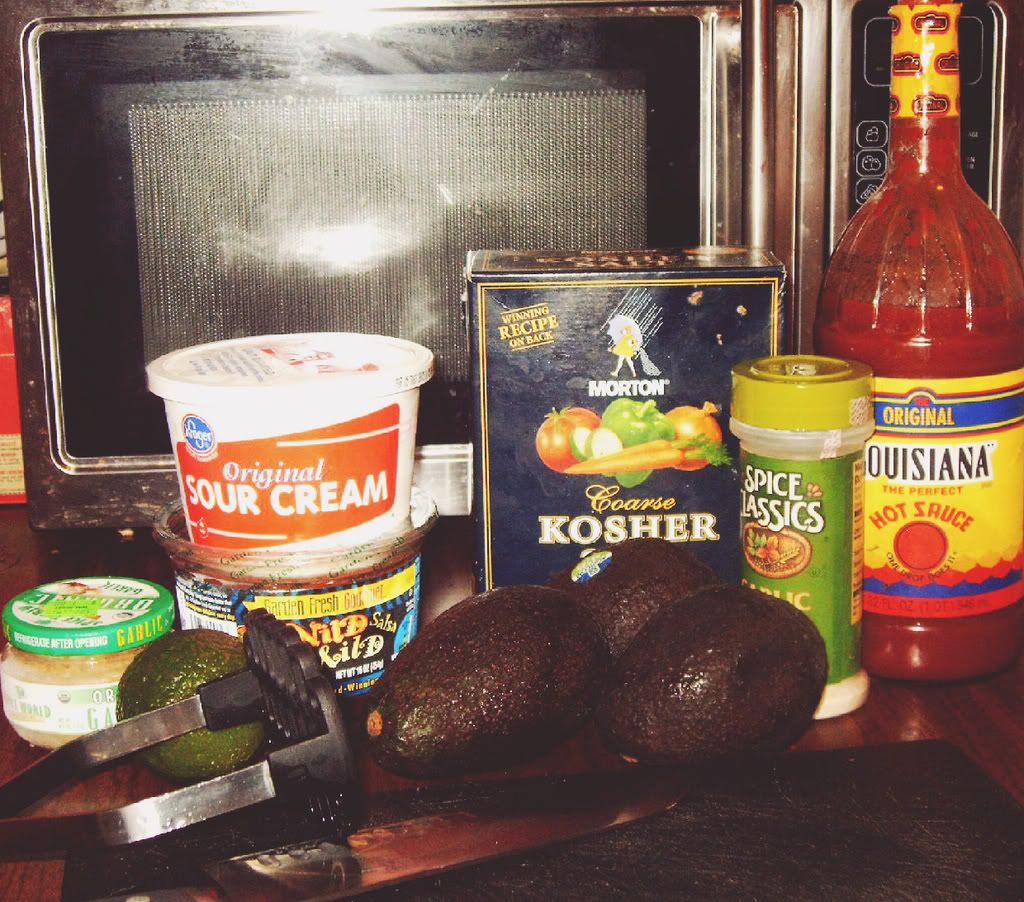 The players: Ripe Avocado, Salt, Real Sour Cream,Fresh Salsa, Chopped Garlic, Nectar of the Gods, I mean ORIGINAL LOUISIANA HOT SAUCE, Garlic salt or powder, Limes, Potato smasher thingy, spoon, and WALTER!!!!
Who is Walter?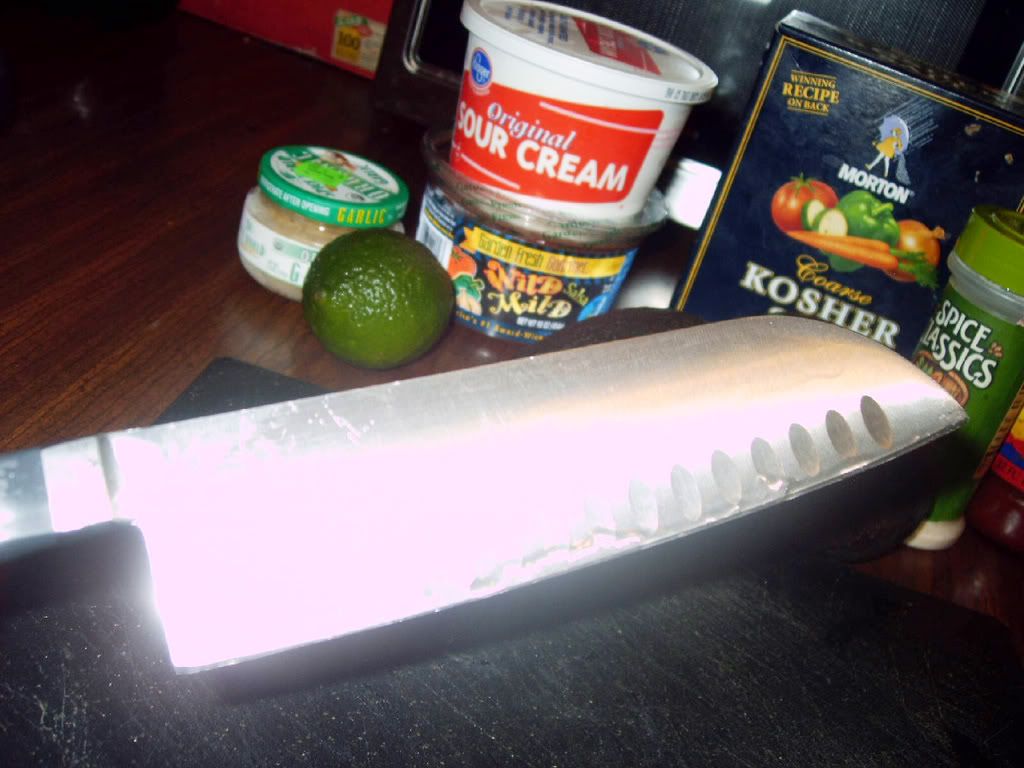 Walter is my bestest friend. Look a him just a-shining in the bad camera light!….
You betta get it, Walter. Ya blinging, boy! YA BLINGGGINNG!!!
But all jokes aside I loooove my good knife. I only got the one. And all the hacks, I mean reputable chefs on the food network will tell you:
GOOD EQUIPMENT is the key to GOOD COOKING!
Speaking of cooking lets get it on! First, introudce Walter to Mr. Avocado….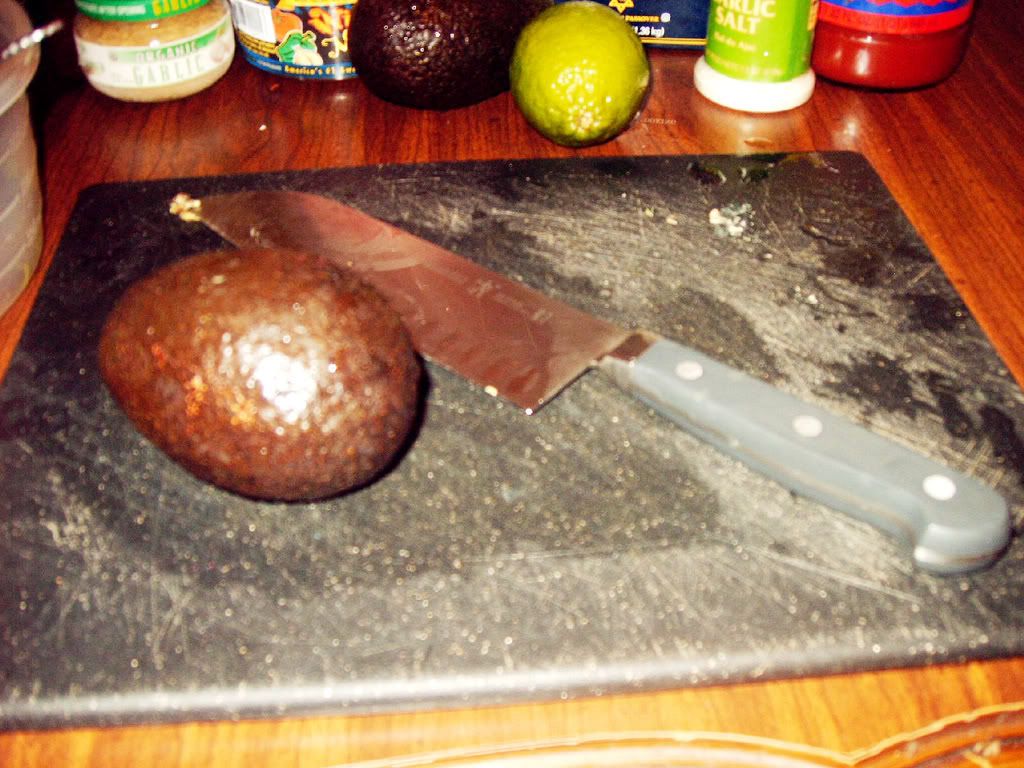 Walter: Hey Dawg what's up? Name's Walter! You new around here?
Avocado: What's up dude, My name's Avi. That chick just picked me up from Food 4 Less two days ago..
WALTER: Where do you stay at?
AVI: Oh I'm in the fridge. Bottom Drawer to the left underneath the old ass lettuce and next to the too soft tomatoes. Dude do they ever clean that thing out?
WALTER: Don't worry dude, you don't have to ever go back there.
AVI: Really dude… Are you sure? Hey, Walter, what are you doing? Walter WALTER GET OFF ME! AHHHHHHHH!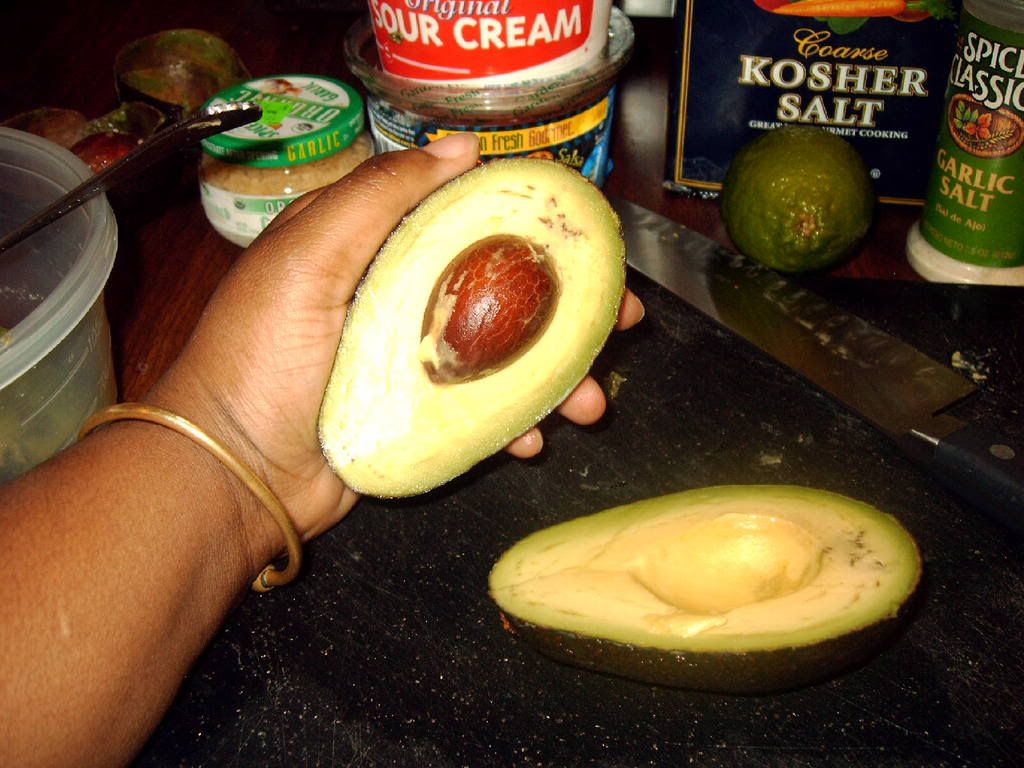 Moment of silence for Avi.
He was a wonderful avocado. Nice and Ripe. Very Green… But we've got guacamole to make and he took one for the team.Thank you,Avi!
Now take your spoon and scoop all that delunkcious green flesh! Most times I use a Gladware container to make it in. That's cuz I'm lazy and just want to be able to put the top on the bowl and take it to the couch with my Family size bag of Doritos and do the damn thang!
But I digress… Get to scooping homie…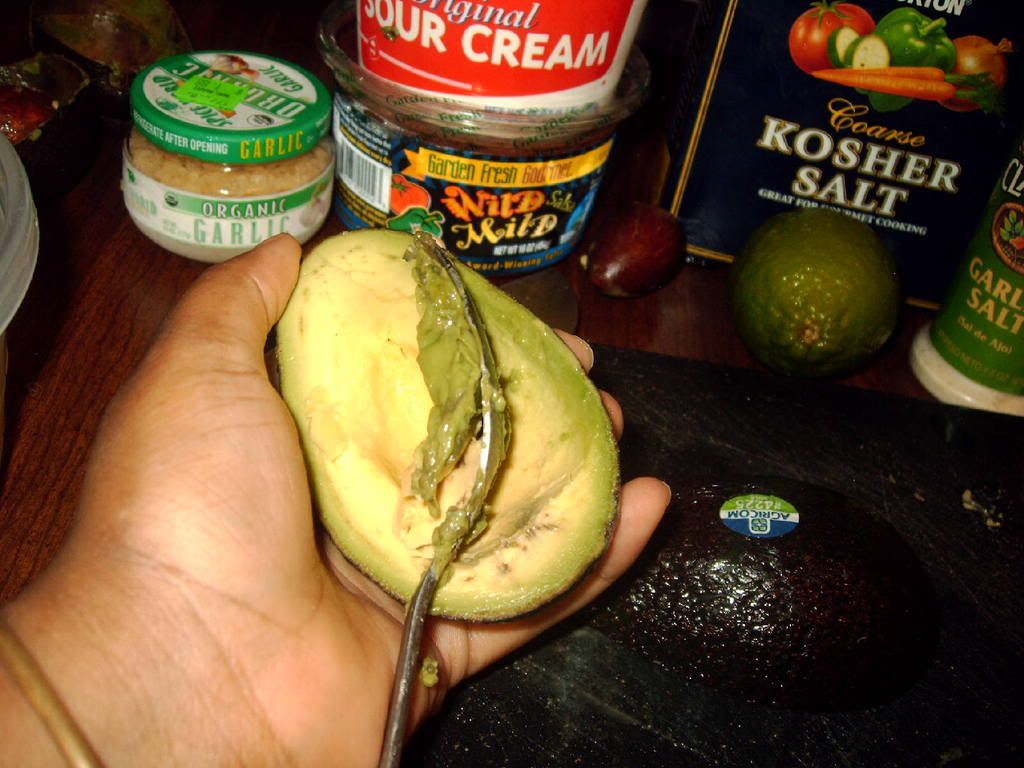 And please, avacado ain't cheap. Scoop like there's no tomorrow!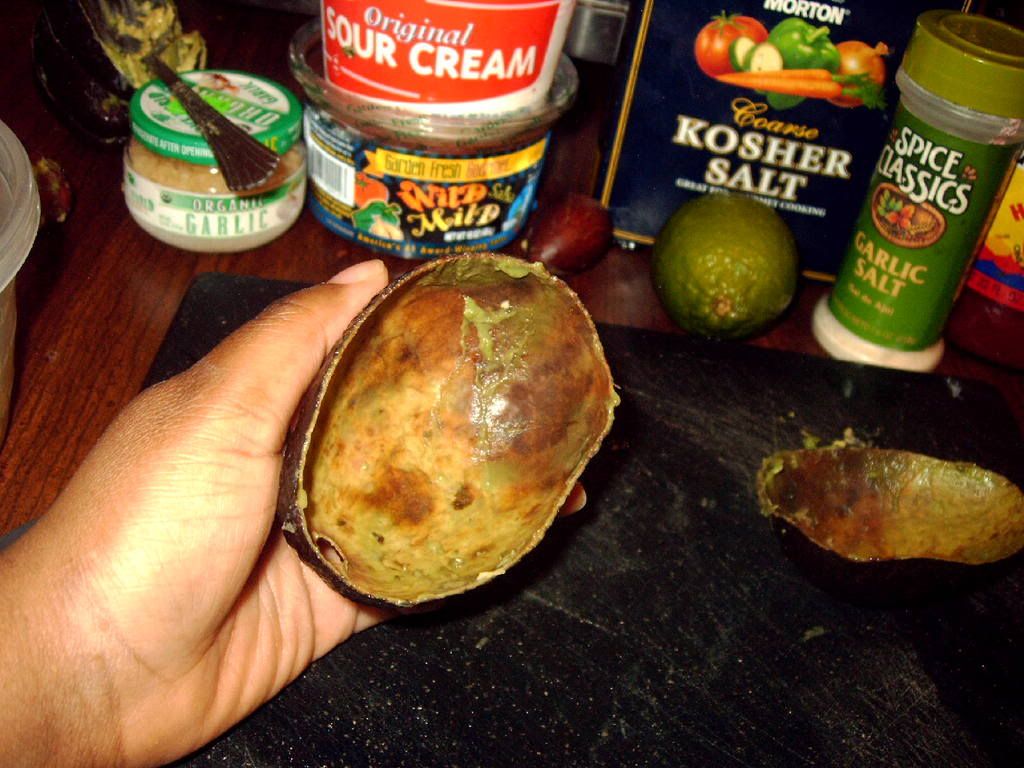 If your avacado shells don't look like this you got way more scooping to do!
If they are well and scooped…. Grab that lime you got and introduce that bad boy to Walter.
If you have trouble getting alot of juice from your lime, zap it in the microwave for like 10 seconds. That always seems to get the juice flowing for me… So Squeeze about 1 medium lime into the bowl with the scooped out q flesh!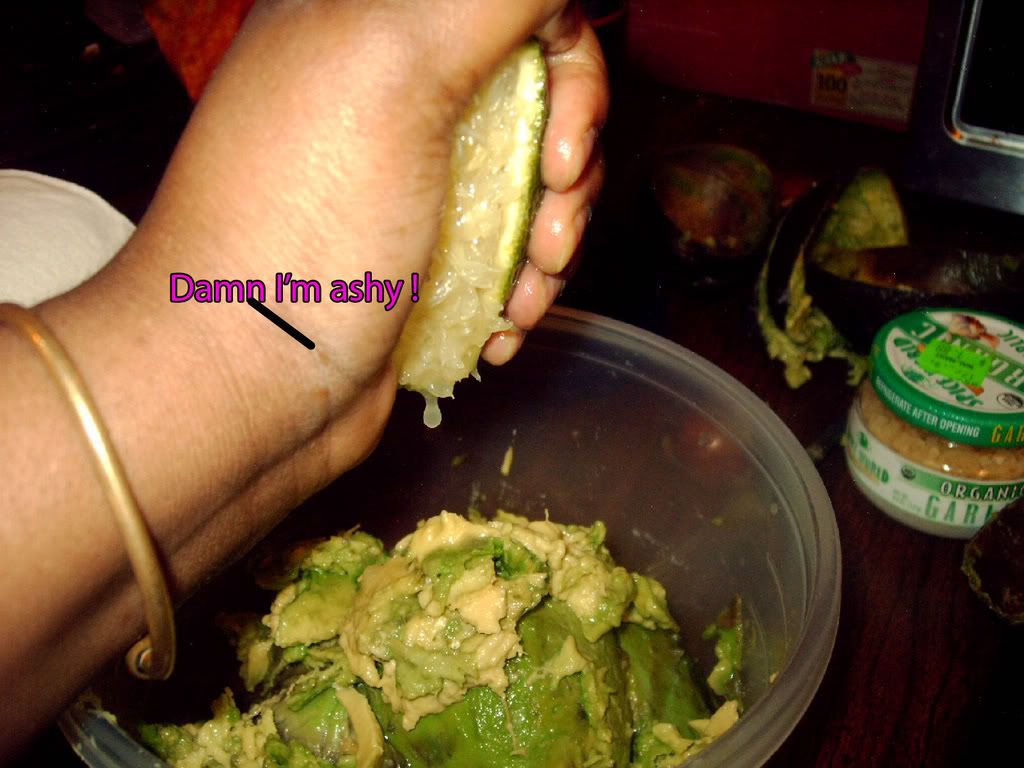 At this point I realized that I was going to be the featured member of the week on www.damnyourskinisashy.com
"Lotion? Whatchu talking about Willis?"
So I went to get some Ash-A-Way and to check on the LDD. She was happily unrolling all the toilet paper off of the roll. My silly butt didn't take a picture but I did get a picture of her eating her favorite snack of dry cereal served on the excess toilet paper!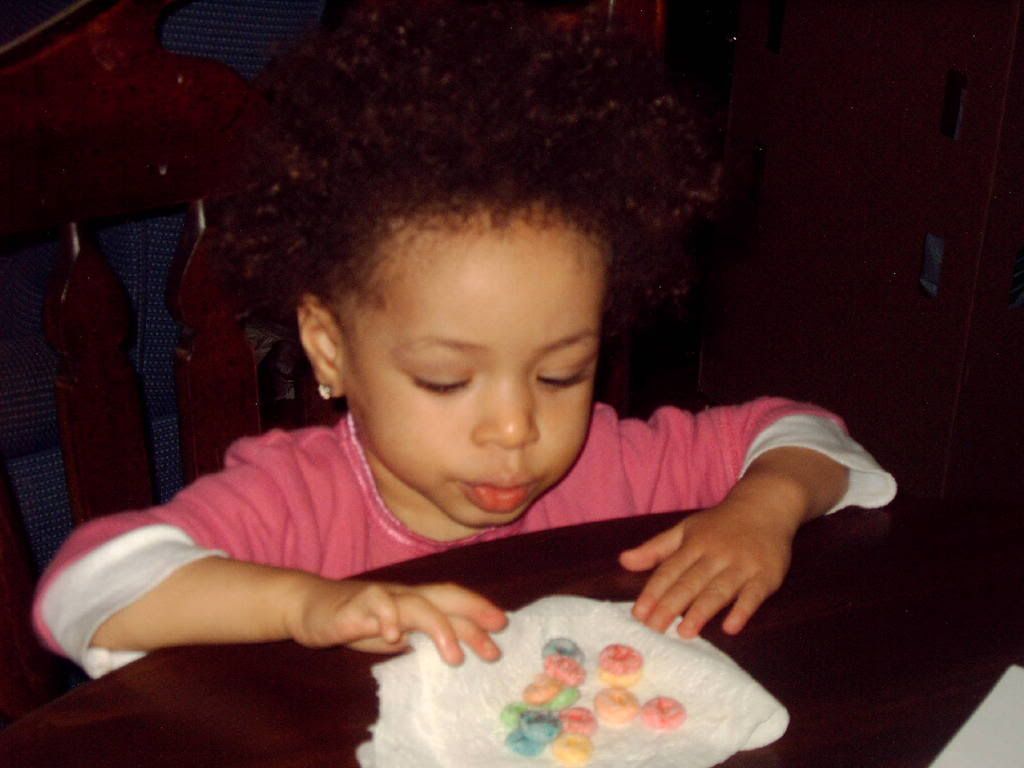 Alright, so now that the ASH-A-WAY(vaseline is your friend) has been heavily applied and the child was happily eating her empty carbs its back to the guac we go!
Grab that sour cream baby! Please buy the orginal sour cream FatFree or Low Fat Sour Cream is for pussies people who don't read this blog.
I know this picture sucks but I wanted to make sure you noted my fabulously ash-free hands!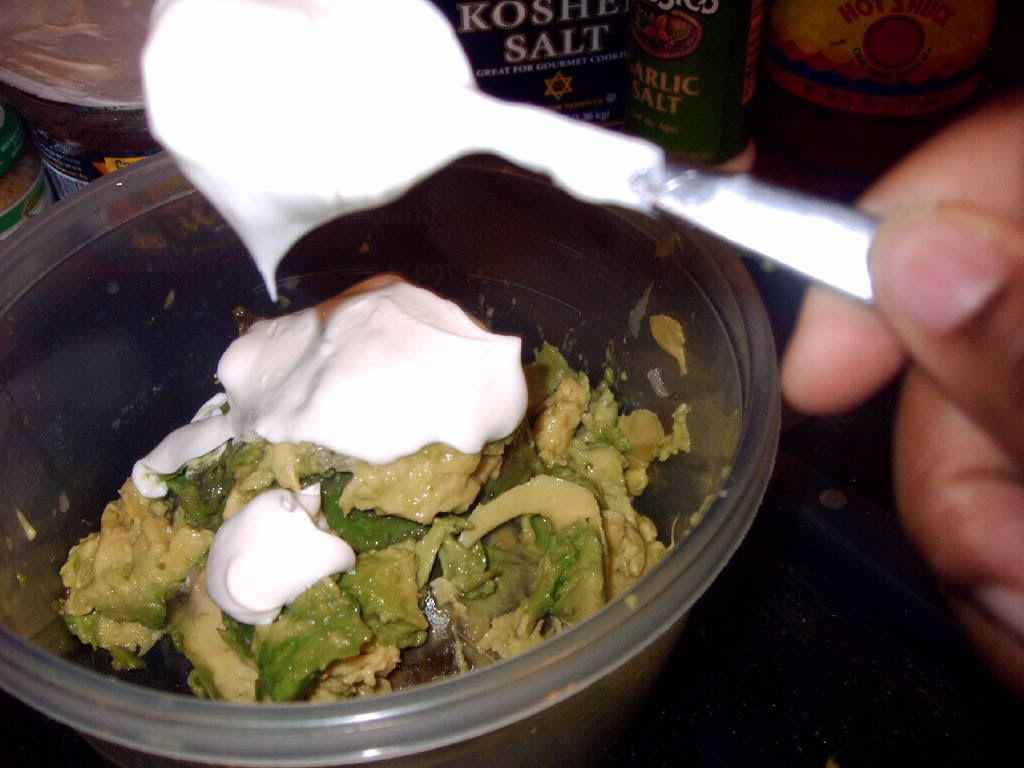 Look at that creamy deliciousness! Next grab the garlic salt and get to shaking… My very snobby foodie pallete will only allow me to enjoy the dollar store variety.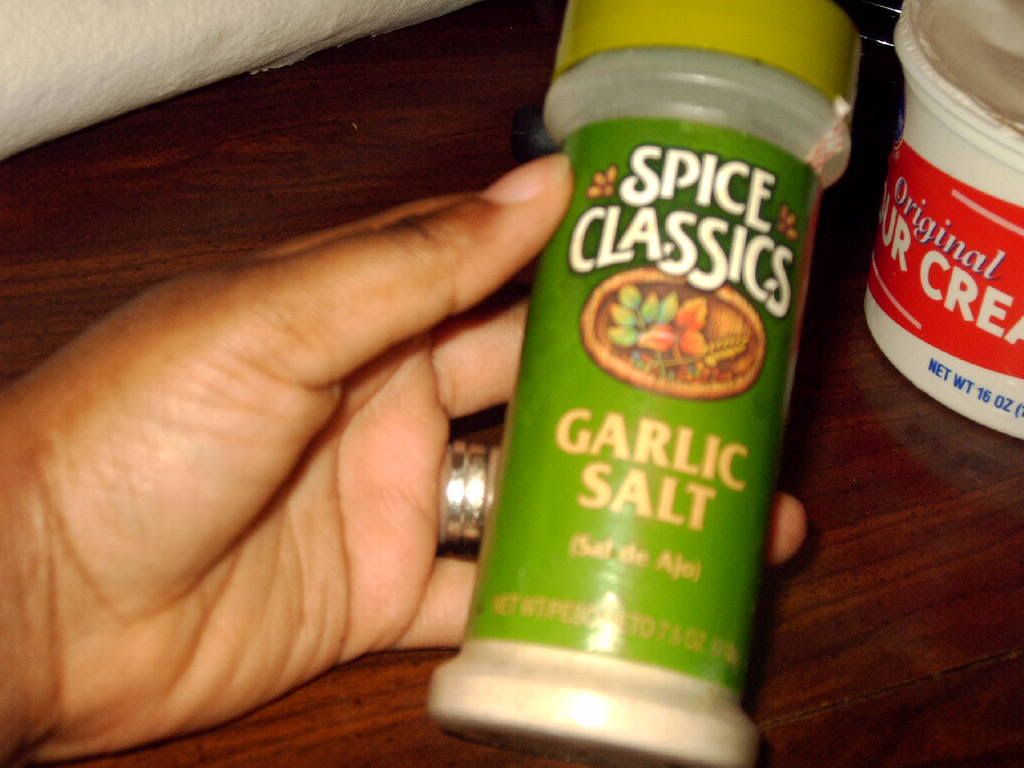 What can I say… I'm a food snob. I just eye ball it.. I say maybe two or three good shakes is enough! Here is an illustrated photo of the shake: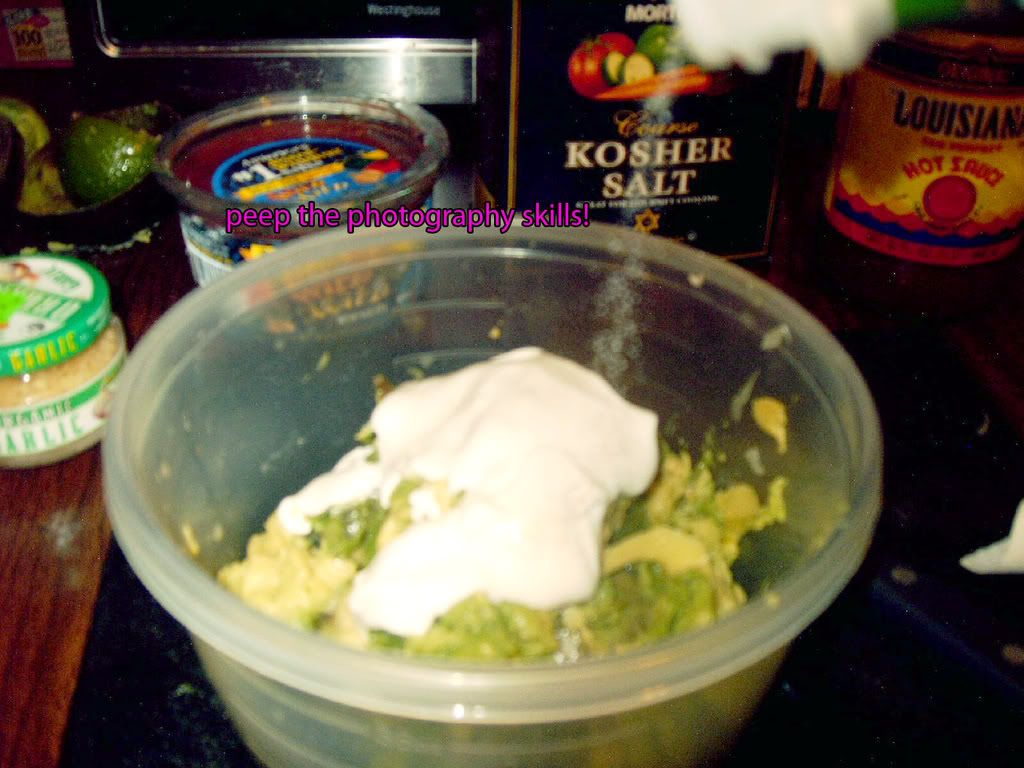 If you squint your eyes just right and cock your head at at 72 degree angle you can see the actual grains of salt blessing the sour cream and avocadoes… Yup I'm a real photog. I'm available for wedding and bat mitzvahs.
Ok fine the picture sucks… back to the guac.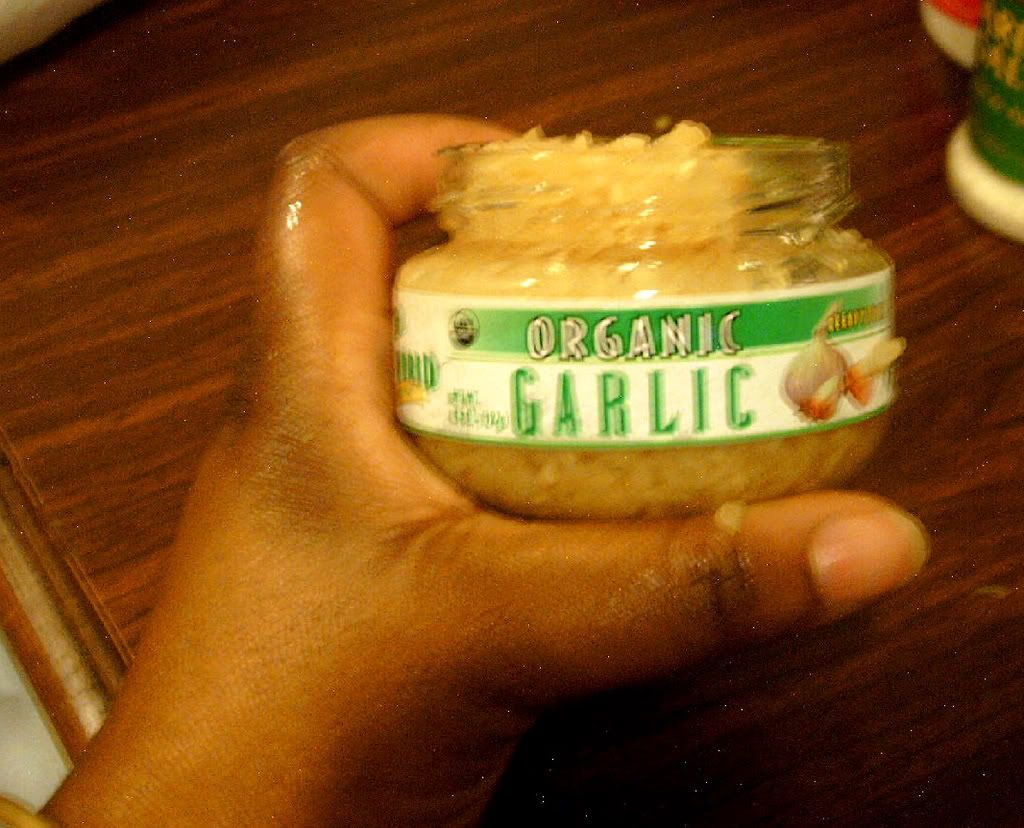 Wow! This picture sucks even more than the last! Its a skill what can I tell you!
You know, I really don't like big hunks of raw garlic in the guacamole but I like the garlicky flavor. So I just pour about a tablespoon of the juice from this little jar into the mix… Very effective and veerrryyy delicious!
Now on to finely julienneing the onions, peeling then, unifomly dicing the tomatoes, carefully plucking each leaf from the cillantro stem and lovingly mashing all of these items to the perfect consistency…
YEAH RIGHT!!! I'm lazy….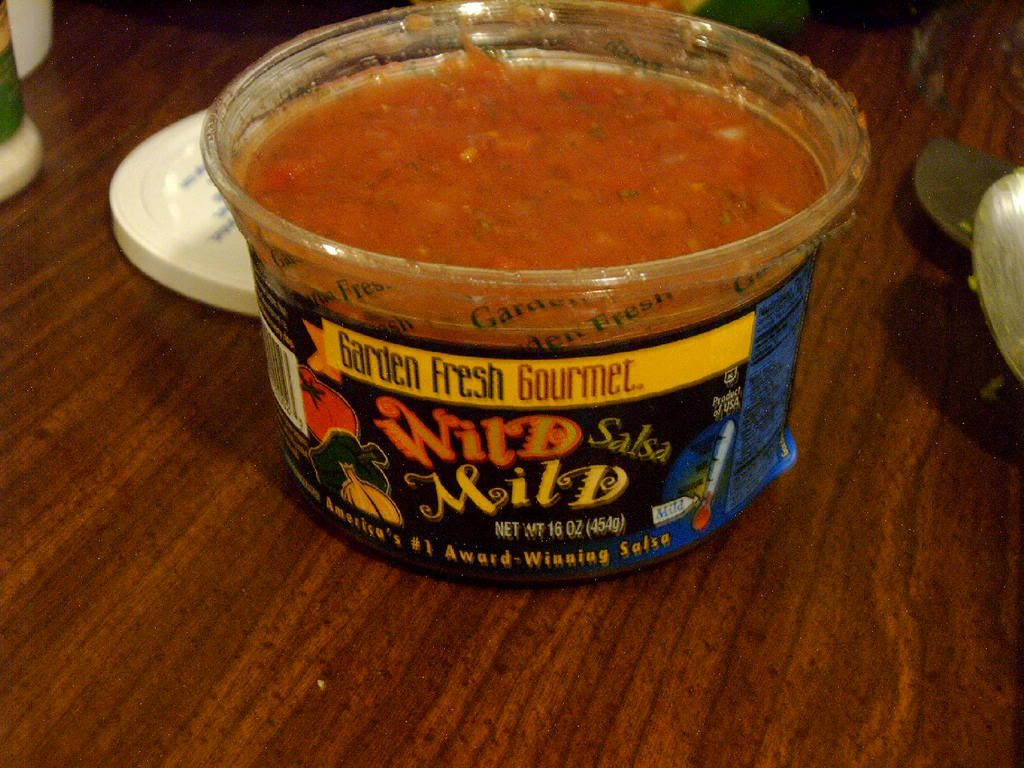 Get a lovely container of salsa from your local Pigly Wiggly and call it a damn day.. I prefer the ones that are in the refrigerator section. They look more home made…. hee hee. But when people ask you for the recipe discuss the proper way to finely julienne a tomato for about an hour first. And then look all food snobbie at them when they say they've never done it… Suckas!!!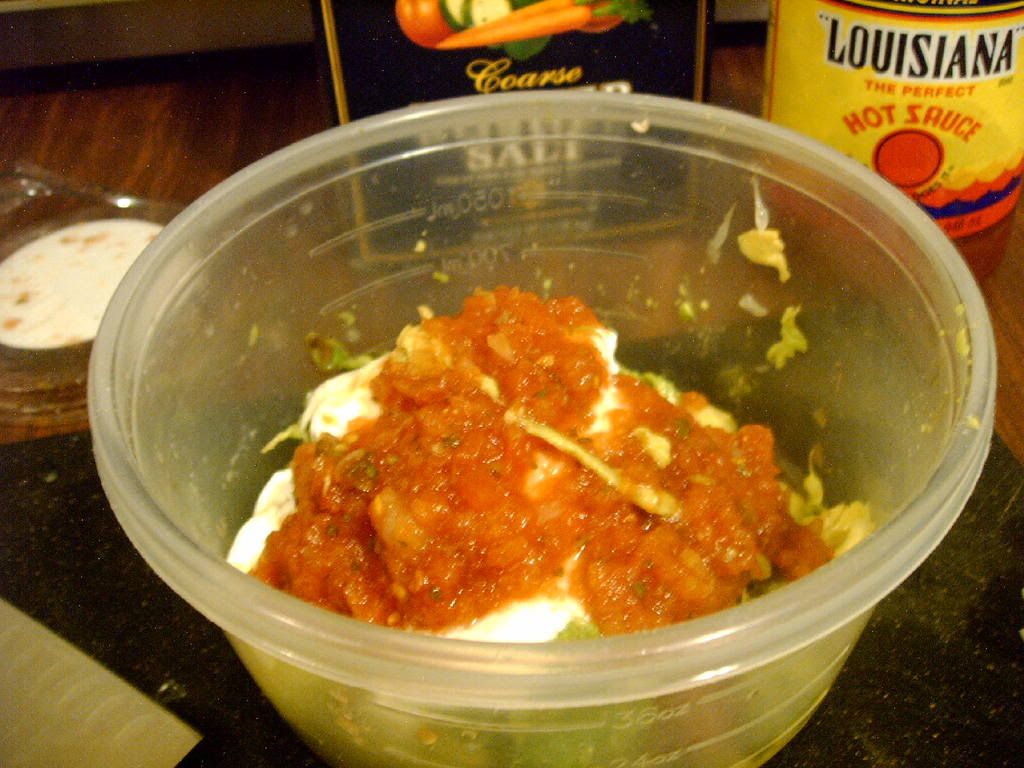 Slap that salsa on in there.. I say about half a cup? Give or take a cup… Just eyeball it and stop stressing me out about measurements for pete's sake. It's guacamole not rocket science!
Now salt to taste. I used kosher salt but any old salt will do…
Gee wilkers! That looks like a hell of a lot of Salt. But trust me avacodoes are sort of bland by nature.. I think this might be 3/4 of a teaspoon!
If the folks I lived with weren't such weaklings about hot stuff (Wahh Wahh, I can't feel my tongue. I'm only 2 can I have the mild version?) I would be adding some jalepenos at this point here. But alas they are whimpies so I used the next best thing to full blazing heat……
DO you hear the angels singing?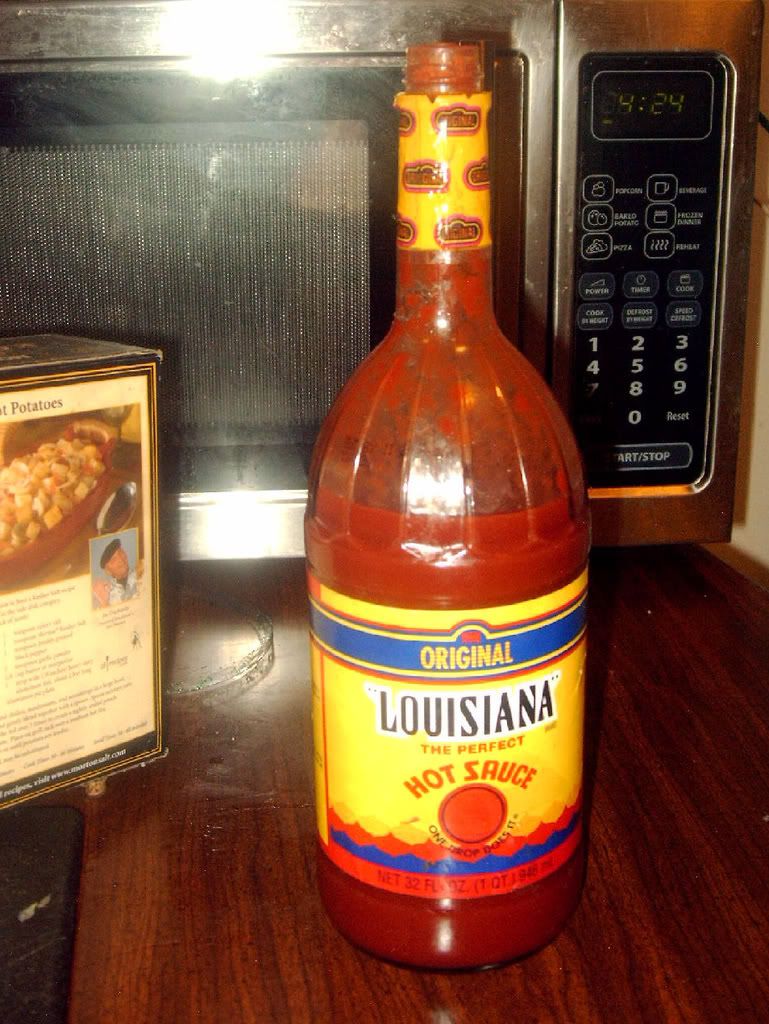 Yes, lord!
I know what your thinking? Who in the hell needs 32 fluid ounces of hot sauce in there house at any given time.
I do, homie. Want to make something out of it? This
little
humonugo bottle of deliciousness will amp the flavor in any dish… Try Hot Sauce encrusted brownies… them bad boys are delicious…
I kid, I kid!
But three squirts of your favorite hot sauce will do the trick with out adding much heat at all! We are almost done now so lets get to mashing!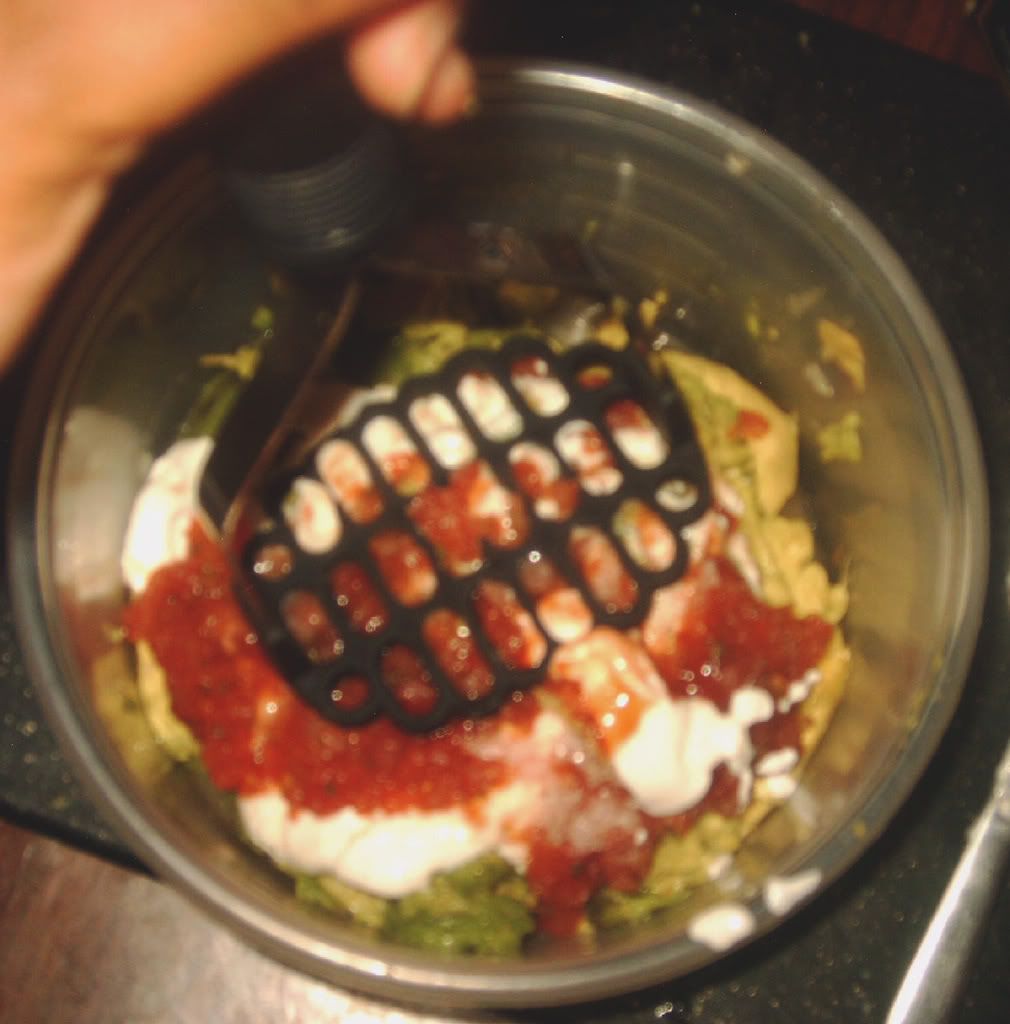 If you don't have a hi tech DOLLARAMA potato masher like the one picture above… You may as well chuck the whole bowl into the trash…
No potato masher?What the hell kind of cook are you?
BOLLOCKS
!
Sike! Just use a spoon honey! And mix or mash until it looks like this!
WARNING:POORLY PHOTOGRAPHED GUACAMOLE LOOKS KIND OF GROSS!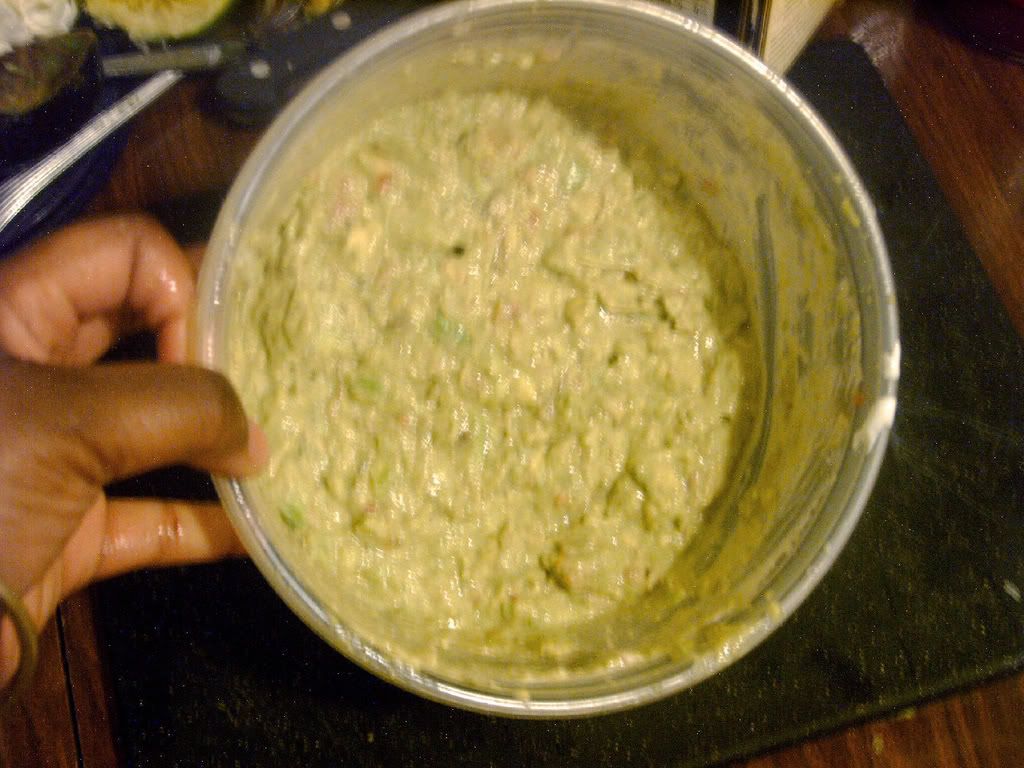 But I promise you it is KRAYYYYZAYYYY delicious!!! Close your eyes while you eat it if you have to… Just for god sakes eat it!
Once again my highly trained food snob of a palette will only let me enjoy"THE GUAC" with Nacho Cheesier Doritos…. Oh my god… I think I just had an orgasm just thinking about the flavor…..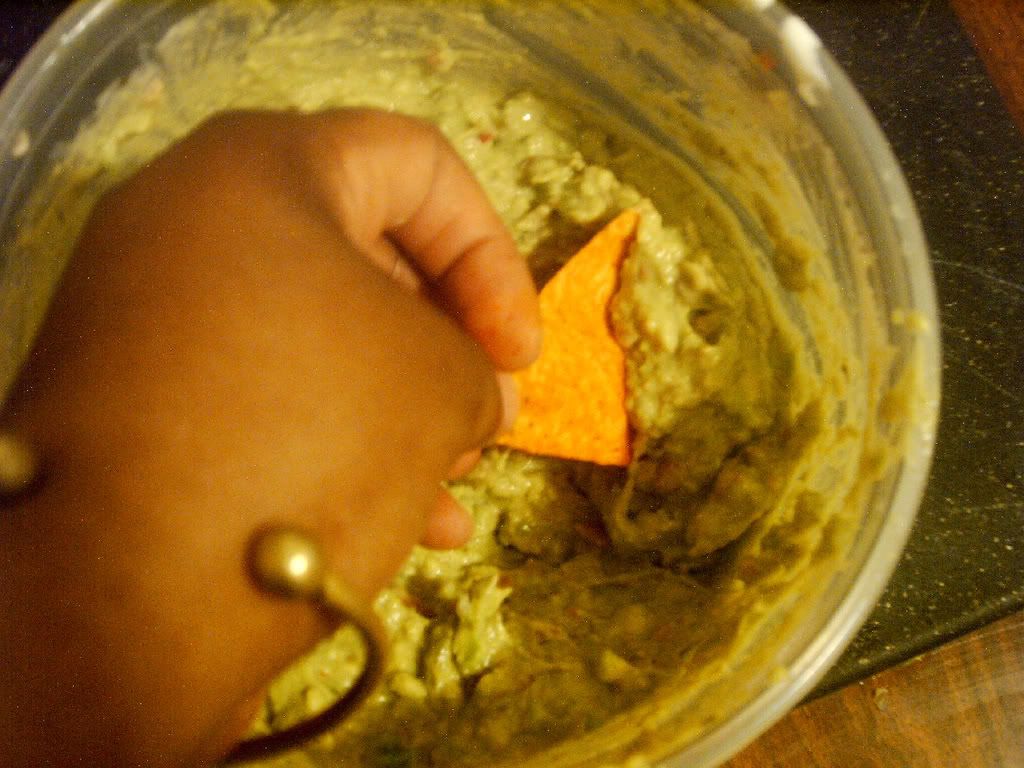 So that's it ladies and gents… The most delicious, easiest, un-photogentic guacamole you will ever eat… It won't last long around your house… Put it on a burger and people will be trying to steal you from your husband or wife…What are you waiting for??
Hop to it!
Oh and I swear I was going to take a nice picture of "THE GUAC" all in one of my pretty bowls… But it never made it… We ate it. ALL of it. Before I had a chance to even get the bowl on the table…. Such is life… I guess I'll just have to make it again tomorrow to get the picture…
Insert evil laugh here…. BWWWAHAHAHAHAHAHAHA GUACAMOLE FOR EVVEERRRYYOONNNEEE!!!!!!
Stay Fierce, Fabulous and Foodie-fied,
Senam
Head DIVA in CHARGE!