In my last post I promised you that I would post pictures of my actual invitation.  The invitations were a lot of work, but it was well worth it.  Hopefully this will inspire a BAB.
The actual invitation was created using a design from istockphoto.com and matted on ruby metallic cardstock from Michaels. I also added crystals from dreamtimecreations.com to add detailing and bling.  The bling took it from good to great.  Any BAB seeking to do their own invitations, I encourage you to look at istockphoto.  Some of the background and border graphics can be used for invitations.  There are so many styles and colors to choose from.  You just have to use your imagination. 
This is the image that I started with fromistockphoto.com
This is my finished product.
I definitely took advantage of Vistaprint.com to have the invites printed.  It saved me tons of money and they look very professional. I was a little confused on how to do this initially, but after many trials I figured it out.  I used Publisher to create the invitations.  First, I designed the invitation on a page setup that was equal to the dimensions needed for the actual invitation.  Then I saved it as a high resolution jpeg and pasted it onto a page that was set up to the printing sizes needed by Vistaprint in the top left corner.  Saved that one as a high resolution jpeg and uploaded to Vistaprint.  It was that simple.  When they arrived I had the white space cut down at Office Depot.
There are 3 inserts-additional information, reception, and directions. 
I created the map for the back of the directions card using Power Point.  Weddingmapper.com is great site to use for instructions on how to create the map.  However, I recommend not using their map.  I found that the maps on Yahoo work better for designing these.  If you use Yahoo maps you need to switch to the old school maps by clicking the "dial up" option on the top of the screen.  Making a map is very tedious work and will take a lot of patience. 
For the RSVP card I decided to do the standard postcard.  This is where I incorporated our wedding logo.  I liked this idea because it gives the guest the first introduction of the logo and will tie everything back to the actual wedding day. 
To close the pocketfold, I decided to do a wide paper bellyband.  I wanted something different and I worked days on the design for this.  I finally decided to put our monogram on it.  If you decide to do a paper bellyband you could put a quote on it or even put your guests name as you would on an inner envelope. 
Finally I put them into a beautiful dark red envelope that I got from envelopemall.com.  I printed the address on each envelope using my home printer.  Again, I got the graphics on istockphoto.com.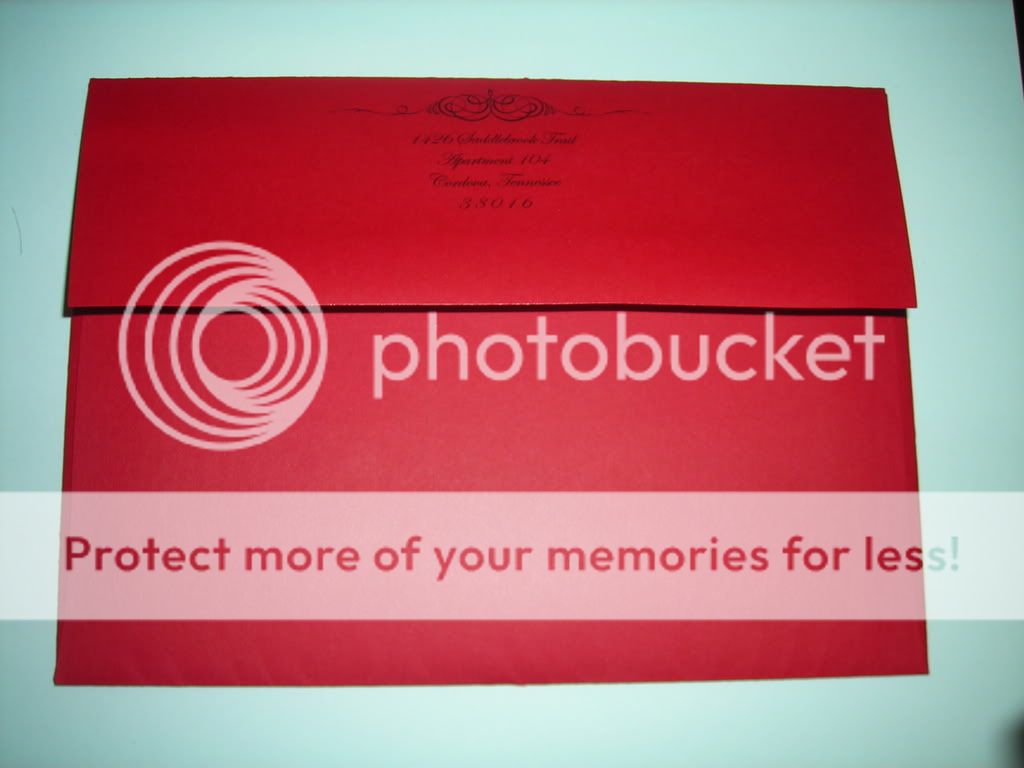 So that's the short version of how I created my invitations. I do love them and I really hope my guests like them too.  I think invitations truly set the tone for any occasion and is a very important detail to a wedding.  It's the first impression that your guests will get of your big day and we all know about first impressions.   
Posted by Latasha @ 6 August 2008