Or something…
So I have this perfectionist thing where if every single dingle thing isn't perfectly the way I want it about something…  I won't do it…I'll work myself up with anxiety and then I'll procrastinate, and delay till its all a even farther away from perfect than it would have been if I would have let that one thing go and just done it as I intended in the first place….
Which sort of goes against the whole perfectionist thing now doesn't it… FAIL!
And having the twinnations and general life hecticness of  5 children (6 if you include the biggest baby of the bunch… HUSBAND) does nothing but exacerbate this issue for me…
Clearly, I need to do better…
But admitting you have problem is the first step right? Well let me procrastinate and worry about it for about a month or two and then I'll let ya'll know…
tee hee!!
So why am I telling you all this… Because I completely had this perfect pick the winner plan for THE SOAP SEDUCTION GIVEAWAY
See I was going to print all of your comments and mount them to pretty craft paper with your comment & its number on them! I was going to personalize each one with your picture and little thing about you from the forum…
I was of course going to take pictures and do a little tutorial on paper crafting for you all…
And then I was going to video ape Solstice and the twins picking the winner of the giveaway out of a special Brownandbridal.com bag I was going to  hand make and  hand embroider…
:blankstare:
Umm yea… I'm also afflicted with a doing too much gene… Once again I'm trying to do better…
So in my desire to try to get all that mess done and photographed and embroidered and glitterfied and all that mess… I just never got it done… First I was procrastinating, then life got in the way, Michael went out of town, I got sick, the twins got sick, Solstice is three and basically it all just got away from me…
WHOMP! So today I just said F it and have picked a winner using the wonderful random number genarator over at random.org…. Soooo the winner is Commenter #23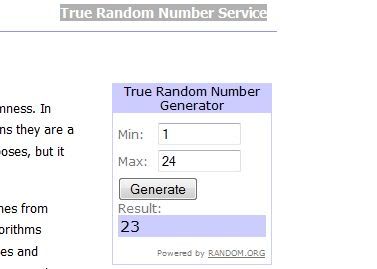 And who exactly is Commenter #23? Why its our beloved GABBI!!!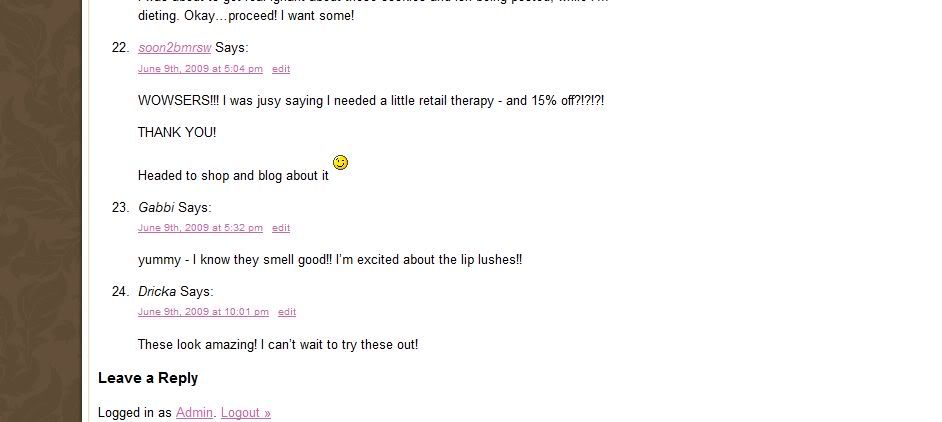 YAY GABBI!!!  So procrastination aside everybody wins… I've learned a lesson: chill on all that extra and just get 'er done and Gabbi Gets $25 dollars work of smell good fabulousness from THE SOAP SEDUCTION!
Posted by thehdic @ 17 July 2009