With the twins, 50-11 websites, 2 step kids, a husband, his election, my design stuff, and sleeping. life can get a little crazy around this joint. And sometimes I worry that my 3 year old may be getting lost in the shuffle. You see the older two have each other. They fight like cats and dogs at times but since they go back and forth to both houses all the time. They are each other's one constant. So the bond is remarkable…
And the twins… Are TWINS! Identical twins.
I don't even need to tell you the kind of bond and relationship they will have… I mean they have the same face for God's sake.. I have a hunch they probably are going to like each other A LOT!
But right smack dab in the middle is my baby girl.
I know I say this about everything… But I really do love her like an obese child loves fluffy pastries… My heart has no limits for that little girl. She's  a skinny,funny, gorgeous, smart, chock full of personality little ball of FABULOUSNESS … Basically she's me with a Jewfro.
LOL I kid, I kid.
I'm not skinny. But funny, smart, gorgeous, and chock full of fabulous personality… Honey who you fooling? That is all me, DARRRRLING! Tee hee!
And while she's fabulous, I worry about her. Its just her in the middle!
I was lonely a lot during my childhood so I'm hypersensitve to it but I don't want her to go thru that cause of the funky birth order postion she is in. So I've been trying to pay attention to her and try to let her have special times with me and her daddy. Its hard so sometimes we have to bend the rules…
I did just that on Monday.
I took my baby to the grocery store with me for an AFTER bedtime Shopping trip…IN. HER. PAJAMAS. AND IN MINE!!!
PAJAMAS IN PUBLIC?? Who Does that?
Yup… We took a dip in Lake MinaTACKY!
We went to Trader Joes after 8:30pm, AND HAD A DAMN GOOD TIME!!!
First off, SHE LOVES TRADER JOE's! Strictly because of this:
I don't know if you can tell from the picture but that my friends is a teeny tiny shopping cart that is the perfect size for little 3 year old SICKENING CUTENESS!
Its identical to the grown up cart and she is BESIDE herself everytime we go!!! When we go to other stores that don't have the carts she is offended.  She has asked cashiers at Jewel and Dominicks if they can buy her a kids shopping cart and leave it there so she can use it next time.
So the other thing about Trader Joe's they give samples all day long!
Did you know this?
I had no idea! I had no CLUE that when me and the little diva rolled in there at 8:45 they would be up in there cooking up some sample fabulousness but yes lawd they were…
This time they had Cranberry Juice, that was DIVINE! (I let her have 2 samples of that…. SHHHHH)
And they had these which are me and the girl's current  one true obsession!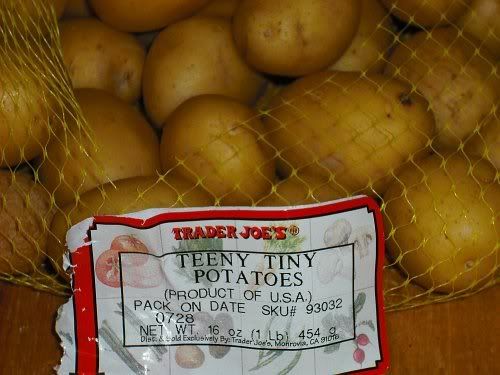 Yup! Teeny tiny little orbs of creamy, buttery,potato-y deliciousness. These are OUT STANDING! The dud mad ethem with some butter, salt, pepper, and ham!!! DE-FRICKING-LISH! I made it last night but I used Bacon… And lord I ate a whole bowl myself!
At the store on Monday, Solstice was straight BESIDE herself! LOL She was like mommy OH MY GOD!! look at the teeny potatoes!!  We can give them to the babies!!!
She promptly put a bag in her cart!
And then there was even DESSERT!! A pumpkin spice cake.
Now I don't do pumpkin! But once again that damn Trader Joe's makes a liar out of me…
That mess was GOOOOODDDD! It was up to high for her to reach so she asked the Trader Joe's manm
"Excuse me, Can I Please have one of those chocolate cake things? My mommy said its Delicious"
Yup the cake was so good she thought it was a Chocolate cake and yes me the man and the random customers all around us Cracked up!
And yes at 9pm at night me and my daughter ate all of that while wearing our pajama's in PUBLIC!
It was worth it! She was the hit of the store! Some folks gave me the shouldn't be in bed look, but she's cute,polite and didn't act a fool! So it went well!
At the end of the night, when we got home and I was taking her out of her carseat… She gave me a kiss and said "Mommy, I Loooveee going to the store with you! You make my heart feel super happy"
And then I did this…
Yup, I cried the ugly cry while she hugged me like what is your problem lady?
I loves that chick….
Stay fierce, fabulous, and  In ya pajamas,