Nope…I haven't been sipping any vino (*insert sad face here*)…I meant to type menu table numbers!
I'd been looking for something that would practically allow me to place a table number AND a menu all in the same place and kept drawing a blank! In my eyes, it's not very cost-effective to place menus at EVERY place setting. It may fit someone else' budget…but, honey, not mine!
So I set out to find something…anything that would give me the look (and the cost) I was looking for.
If you remember I mentioned that I really liked the 'through the years' concept for table numbers, right? Simplicity is my middle name; so I had to find something to combine the menu, the table numbers AND the sentimental aspect of our childhood pictures.
I found this beauty over at
Weddingbee

.com
and fell in **instant** l-0-v-e!
::wipes drool::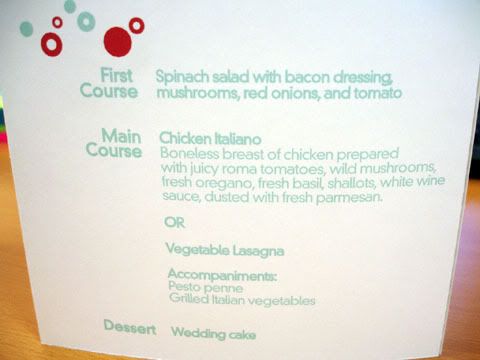 And, ladies, this was (as the bride put it) the 'easiest' DIY project she did. Wowzer. Yes, I'm doing this!
Here are her words of how she accomplished this beautiful project!
I laid out an 11×17 (tabloid) sized sheet in Adobe Illustrator.
I wanted to get 2-3 out of each sheet of paper but still have each table tent a decent size. I ended up with 2 per 11×17, landscape oriented sheet. Each table tent, flat, measured 17? wide x 4.5? high. Since the printer I was planning on using

doesn

't print full bleed, the artwork took up about 16? wide by 4.5? high each. The extra, blank half inch became a tab to which I affixed double stick tape to hold the thing folded together.
The one at work broke a few days before I finished designing the layouts, of course,
and my company decided not to replace it until we move (a month after the wedding). And yes, I had my boss' permission since it was only 10 pages total (20 tables, 2 numbers per sheet).
My wonderful former roommate printed them out for me on her

Epson

inkjet

printer that can print up to 11×17 size.

CIAO

Ebonee Monique

A friend and I cut each one out, to get the full bleed look.
Said friend and I scored each into thirds, plus a little score line at the end for the 1/2? tab.
I folded each, used double stick tape on the tab, which was stuck onto the back of the other end. Voila!
Bonus tip #1 – Find a larger format

inkjet

printer if you can, over a color laser. The color lasers at Staples and Kinko's just don't cut it when you're trying to print photos. I did some test plots there before bugging my old

roomie

, but the photos came out horribly. Photo printers (I know, still technically

inkjet

) work even better, but it's hard to get a hold of one that can print up to 11? x17?.
Bonus tip #2 – If you don't have access to
anything that can print pages this large, you can also do tall, skinny table tents made of an 8.5? x 11? sheet of paper folded in thirds.
Bonus tip #3 – If you're as cheap as me, buy a ream of 11? x 17? and have Kelly Paper cut some of it down to 8.5? x 11? for you. They'll usually do it for free as it's just cutting it in half. You get double the number of sheets, if you cut the whole ream in half, for less than the price of buying two reams of 8.5? x 11?.