In doing all this wedding stuff, I have realized I really like crafts! Ever since I reordered some wedding stuff, I have been all about getting this stuff done – even with no official date set!
I also think that with all of the uncertainty in my life right now, doing this projects helps me stay focused and realize that FI isn't going anywhere and with everything that is going on, this wedding will happen one day! So they are very relaxing for me, gets my mind off of all of the everyday drama and worrying about things I have no control over at this point.
Anyhoo… My broom was the first project I finished when I was planning with my old colors, for my old date.
Those brooms are hard to find though! The first ones I found were smaller than I expected so I had to get creative. I put two of them together, but it still looked to short. So I thought of using a cardboard tube to extend the handle and cover it with fabric and lace. I think it worked out well, except for a couple of things.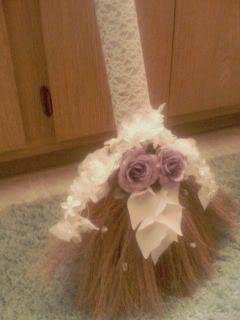 I was in Jo-Anns getting fabric and saw a cardboard tube sitting behind the counter, they gave it to me no problem. The problem – it was too thick, especially for my brooms. So with a new color scheme, I got the chance to do it all over again, this time with a left over Christmas wrapping paper tube.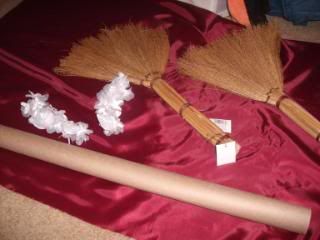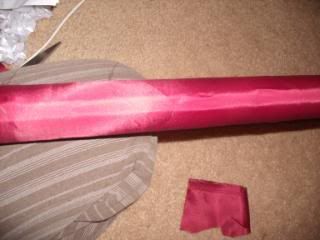 And drumroll please…….. the finished product.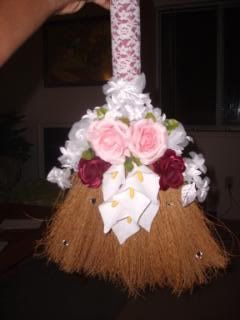 So what do you all think?
Posted by Dricka @ 17 March 2009
Tags : crafts , DIY , jumping broom , wedding