I've heard it said that the day of the wedding is a whirlwind.  It was for me…
I got up at 6 am because I couldn't sleep…I was nervous and excited…You know that feeling you get when you were little and you were going to the first day of school?  It was a little like that…I had so much to do…I had to make my sister's and my bouquets and the 2 boutineers.  I actually didn't know how I was going to do the bouquets, and I wanted to give myself some time to "get it together".
I had an 8:30 hair appointment, and my sister was going to pick me up, so I had enough time to take a quick morning shower and get to the solon.  It was so very peaceful.  I sat in the living room with all of my tools and my two dogs were sitting as close to me as possible considering I had so much stuff around me…I kept talking to them saying, "Mommy's getting married..Mommy's getting married…" In a sing-song voice…They were clueless, but I'd like to think they were excited for me. 
Loved the morning…Peaceful…
My sister picked me up and we jetted off  to the salon…She had a stroke when she found out that I lived around the corner from Krispy Kreme's.  It was a mess…AND the HOT NOW light was on…That stuff is crack…We ate 6 donuts…YES, SIX!  I don't know where she put them…She's a dang bird, but me…They're going to my hips…butt…bewbs…I didn't care…I was an emotional eater that day…
We had rehearsal that morning, at 10:30 am, so we had to race to the venue after my hair appointment.  When we pulled up, it really hit me…I'M GETTING MARRIED!!! Omigod!!!!  My sister looked at me and said, "Susan (our pet name for each other…), you alright?" I wasn't…I started crying…We sat in the car for a few minutes…
Rehersal was easy and quick…Larry and I had gone over it a few times, so we were very comfortable with it.  We just needed to sync everything with everyone else.  (His mother, who officiated, his best man, my MOH, and my brother in law who sang the processional and another song during the ceremony. )
The day was really overcast.  It started drizzling as we left rehearsal.  My sister said, "Don't let the weather get you down."  "I'm not," I lied…I was a bit salty at the weather.  All week the heat had been set to FRY, and today…It wants to rain…Not funny…at all…
After rehearsal, my sister and I went and got manicures and pedicures, then I went home for a nice long, hot shower.  My fiancé picked me up at 2:30pm with the Best Man and my Brother-in-Law, and we left for the venue.  I had a couple of people get mad at us because we rode together. 
They said we weren't suppose to see each other…I told everyone to leave me alone…OR rent me a car and pay $4.00 a gallon gas to fill it back up…Uh-Huh…That's what I thought…(Suckas…)
On the way to the venue, my fiance's mother called him for directions which pissed him to no end…It cracked me up for about 2 minutes of the conversation.  It went like this…
Larry:  Mama…The directions are in your invitation!  They're spelled out, perfectly!!!
MIL:  But we went a different way when we went to rehearsal.
Larry:  Mama…Forget about that.  Just follow the directions EXACTLY like they are on the invitation.
MIL:  But you made a turn that was different from the directions, and it has me confused.
Larry:  Mama!  Please, forget about what we did this morning…The directions are very simple…Get on 65 going south…Take exit 65…Make a right…you run into the venue in about 5 miles…THAT'S IT!!!
MIL:  But we didn't take 65…
Larry: LORD HAVE MERCY, MAMA!!!
Larry swerves as another driver in the car next to us doesn't look where she's going and almost hits us…THAT'S WHEN I STEPPED IN…
Me:  Look…If you gone kill all of us in this car, at least kill us for something noble like a freaking deer in the road or a puppy or something!  NOT GIVING DIRECTIONS THAT ARE PRINTED TO A CARLOAD OF 10 ADULTS WHO SHOULD BE ABLE TO KNOW THEIR HEAD FROM A BUCKET OF CHICKEN!
Larry:  Mama…I can't deal with this…I'm about to wreck…Y'all need to figure it out…Ask my dad..Ask Uncle Billy…Aunt Jerry…my sister…Somebody knows how to follow directions…I'm sorry…(click) Lord…I just hung up on my Mama…(sigh)
Me:  Well it was that or we were going to die…She'll get over it…
So that was our near death experience on our wedding day.  Okay…I'm dramatic…
We got there in one piece, but I was NOT amused…Please believe…Some folks were gonna have to under stand that I DID pack my razor blades and lemon juice that I got at my Bridal Shower…I WILL use them!
 Once I got everyone started on decorating the venue, the sun came out in full force.  It was GORGEOUS, so when it was time for me to go upstairs, I was so very giddy.   Thankfully, I really didn't have anything to do…It was only like 4:00pm, and all of my girls were handling everything, perfectly.  My sister and I just sat in the bridal suite with our mother talking and putting on our make up.
My sister Jada doing our Mom's make up.
  It was a great time for us to breath and reflect.  My beautiful mom was so happy for me.  Every time we would look at each other, her eyes would mist with tears.  She knew that if she said ANYTHING I'd hit the "ugly cry"…so she just smiled at me and kissed me.
My grandmother finally made it to the venue about 6:00pm, and came up to the bridal suite.  I swear as soon as she saw me, she burst into tears.  I told her, "Aww man!  Grandma!  Don't cry!  You're gonna mess up my make up!!!" 
Before everyone left the bridal suite, we had prayer.  My family gathered in a circle around me and prayed for me.  My mother prayed a beautiful prayer.  She prayed that the Lord would bless Larry and me.  She asked that He would look down on our union and marriage and bless it with love and friendship.  She asked that He would bless our families so that they would support our love and lives, and then she thanked Him for the blessing of being my mother, and the honor to be the one to walk me down the aisle.
 Here's something ironic and funny.  I pride myself on being organized.  When Larry and I were writing our ceremony, we decided early that we would write our own vows.  I searched for MONTHS for ideas for vows, and had taken TONS of notes…edited them…came up with the PERFECT vows…Guess what…?  I left them…somewhere…I still don't know where they are….So I had to write my own…It was like God was telling me that while I can plan and organize everything, the vows MUST come from MY heart.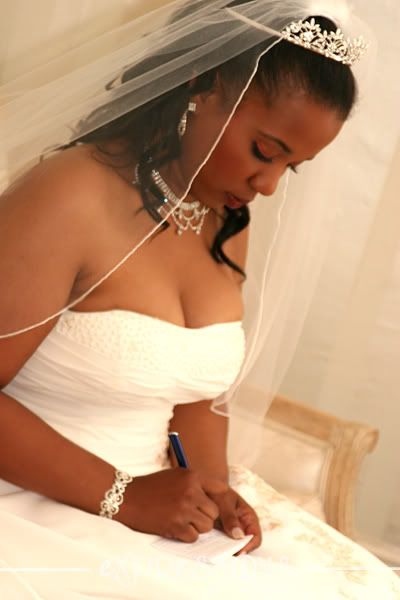 I remember saying to myself over and over, "Thank you Lord for blessing me…Thank you Lord for blessing me", as I walked down the aisle.  I saw Larry a million yards away, and remember saying to my mother, "Dang…This aisle is LONG!" 
I looked at Larry, and he was crying his eyes out.  I melted.   As soon as  I came through the door, this beautiful man broke…completely…and without  shame…  KNOWING FULL WELL THAT I'D MAKE FUN OF HIM EVERY DAY OF OUR MARRIAGE BECAUSE HE SAID HE WOULD NOT CRY WHEN HE SAW ME, AND HE DID…(AND YES…I DO!!!)
Our Covering Ceremony-
This part of the ceremony was very special to us.  We did a lot of studying and reading about marriage and our goals for our lives.  Larry found a scripture that really resounded with him, and he wanted to do something that really spoke to that.  He wanted to actually cover me as a symbol of his promise and responsibility to me in his life.  The ceremony spoke of his responsibility to love, cherish, cover and protect me.
After the promise and prayer, he presented the covering cloth to my mother as a token of the promise. 
This picture kinda looks like he just pitched it at her and turned around, but this was after he hugged her…(HA!)
Our ceremony was so sweet and special to me. 
And let me say this, as much as we practiced how our first kiss would be, it was nothing like what actually happened.  Larry sighed deeply, then just grabbed my face…
and then the million minute hug…Well it felt that way…(It must have been seconds…Note the time stamp on the series of pictures…It says 20:38 in all of them…)
and more tears…
Introducing, Mr. and Mrs. don't have any pictures other than ones with them always looking down…(Suckas…)
The reception was like the icing on the cake.  We had such a good time.  After the wedding, people were constantly telling us that they could see that we were BEST friends.  It is so true…I sure loooove to "toot" my lips, aparently…(every picture…I swear…)
The night was full of dancing…
We even got Larry's 84 year old Grand father out on the floor.  He was so sweet!
I partied with my gorgeous mother, and we sang every song at the top of our lungs!  See us screaming??
At the end of the night, I felt like royalty.  I felt the love of my family and it truly was a celebration to remember.  The day was three weeks ago, and I'm still hearing people thank us for such a wonderful time.  There was not one person that didn't enjoy themselves.  It was exactly how I wanted it.  It was perfect.  Small and intimate.  We were able to go to every single guest and actually spend time with them.  I envisioned my wedding to be a time of family, friends and love.  And I must say, it was…and boy did it feel good!