I was able to do a second trial of my guest table set up.  I only got to do one set up trial at the reception site and I forgot to take my camera.  This set up was done at my g-ma's house because I don't have a dining room table.  I decided against having a dining room table when I moved into my apartment because I knew I would need the space for all my wedding stuff.  It was a smart decision because that room is out of control.  At this point we are looking into renting a U-Haul truck to take everything to and from the reception and ceremony site.
This is table one set up that is referred to as the flower table.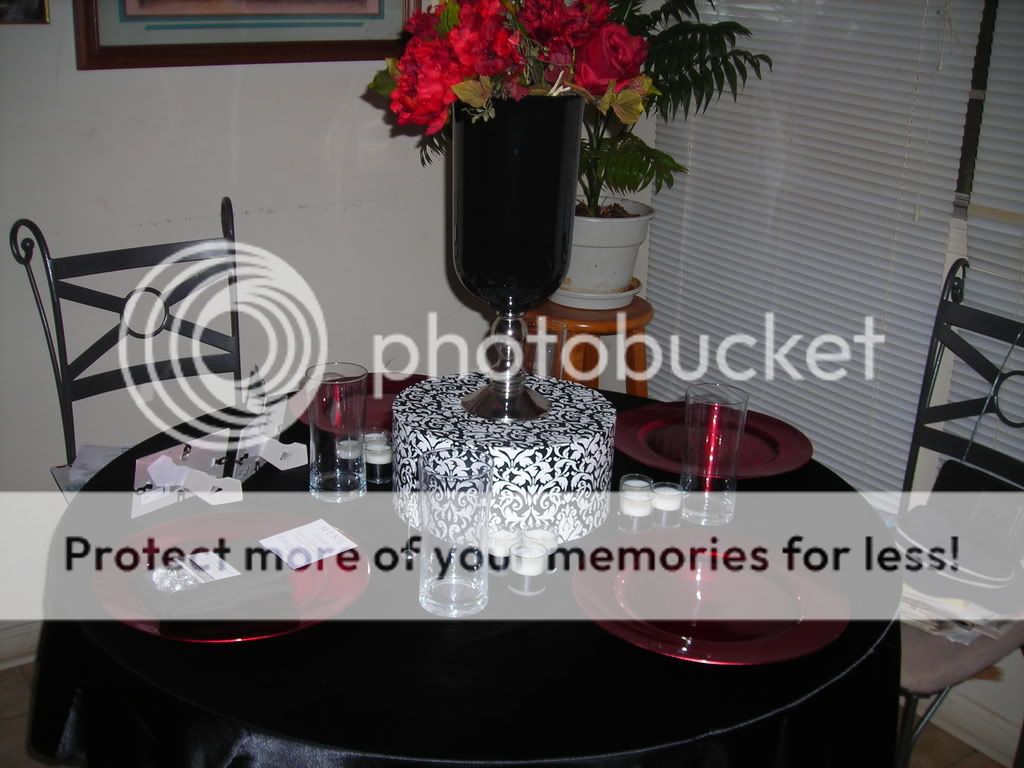 The pictures really don't do the table set up justice.  I was so happy the way it turned out.  The flowers on top of the vase will actually be a large topiary of dark red carnations that my florist has matched to black magic roses.  I love black magics because of the deep red velvety color, but to do a large topiary of roses was mega expensive.  I had my heart set on that topiary and I knew carnations would work, but I wanted that dark red color.  When I asked my florist about the color, she told me that she could make any carnation that I wanted.  I was so excited and she even offered to show me samples.  A week later, she had black magics and dark red carnations for me to compare.  There was not one difference in the color and the flowers were beautiful.  Have I ever told you all that I love my florist.
The other points on the table include a damask hat box that I got from Hobby Lobby, four glass vases (actually they are drinking glasses from Ikea) that will have floating candles, and 12 votive candles
Table set up number two is referred to as the candle tables.
The candle table has my after Christmas sale finds.  This set up consists of a hurricane vase with a white pillar candle, dazzlers in the bottom of the vase and three beautiful glass candle sticks that have white tapers.  Another reason for doing the trials were to decide if I was going to use feathers to surround the vase or dark red rose petals.  I tried out both but for some reason I don't have a pick of the petal set up.  I like the feather set up anyways, but the petals were my g-mas's favorite.  Sorry, mamadear you loose.  I think I will scale back the feathers a bit though.  The trial for this also came in handy because my tapers do not fit in the candle sticks.  My mom came up with the idea to use paper (she is where I get my Martha skills), and I took the idea forward and decided to use transparent tape instead.  We'll see how it works.
One more detail for the tables were the place setting.  One theme that I found really important in all the magazines and top wedding design websites were the details in the guest place setting.  For our place settings, we will have dark red chargers, (another after Christmas sale find), a black napkin, and a menu card designed by moi.  The napkin was the tricky part because I want the napkin folded like a pocket so the napkin can slide inside, which is another common theme that I have seen in the magazines, but I couldn't figure out how to do it.  I googled and looked at pictures, but never practiced.  I thought I would figure it out when it was time, but I was wrong.  My mom kept trying to fold the napkin until I literally had to take it out her hands.  Oh yeah, the place setting also has a guest favor that I have added at the last minute.  It's a little bag of personalized Hershey Kisses that I will tell you more about in my next entry.  I'm actually working on those now.
Overall, I am very satisfied with the results.  I can just picture in my head all the candles lit and the overhead lights dim. I'm confident that the day of the wedding it will turn out fabulous.
Posted by Latasha @ 15 September 2008