Can I just tell y'all how much it tickled me to write 'STD decision' in the title? Yes, I'm 27 and I still behave like I have no home-training at all. {gasp!}
So, you've seen our ::fabulous:: Save the Date cards have already been designed by my e-
bff
, Chris!
So what's the dilemma? Well, I can't decide between postcards, invitation-style or magnet
STD's
.
I can think of pros and cons of all of them!
Post-card style

STD's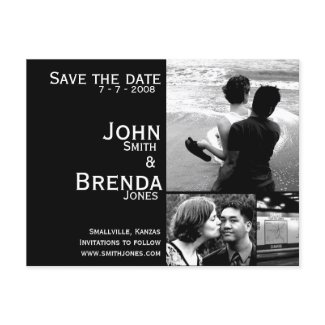 Post-card style, while practical and inexpensive, are easy to be tossed out/overlooked and mixed up with unimportant mail. I'd hate for our guests to get the save the date but NOT get them due to being bundled up with the mail.
Invitation style
STD's
are a little more traditional (not in design, but concept) and, like post-card style
STDs
, are pretty inexpensive and easy to come across. I've heard of brides who've paid MORE for invitation style
STDs
(due to postage, and additional inserts) for this style also. I'd be concerned with them being overlooked as well.
Magnet-Style

STDs
The magnet STD is a growing trend that brides and guests alike are starting to love! The magnets are def. practical and inexpensive, while allowing a little bit of creativity to shine out too. The only con I'd see with this is, like the others, getting mixed up in the shuffle of the mail. The only difference with the magnet is, it's a little thicker and will (hopefully) prompt someone into thinking it's a present or something!
Lol
!
Right now, I'm leaning more towards magnets. I'd love for my guests to look at the magnet as a daily reminder of the big day, but the reality is regardless which style I choose there will be someone who will overlook something.
What style are you going with?
CIAO