If I told you I was at my ideal size right now, I would be lying straight through my clean, white, bright teeth.
In fact, I'm far from it. You see…let me show you a picture of myself from high school.
Although you can't see my body, you can see my face and the non-chins I had! Here I am now…
Why hello double chin!

Some people can chuck their weight off to "grown woman" weight. I choose to be a little more realistic. It's fat. Jiggly, turkey chin & arm, un-cute….F-A-T. I didn't magically wake up a little heavier-in fact- it took years, tons of fast-food and lots of lazy days on the couch for me to gain the weight that I have.
But I digress.
The other day I was sitting in Borders (as I'm doing now) and came across a post on a message board about a woman who'd lost weight through Dr. Ian's 'Fat Smash' program.
"Okay," I thought "Here's another gimmick"
However, when I read through the article…my jaw dropped. Something in me clicked and I packed up my stuff and headed over to the book section and picked the book up, right then and there.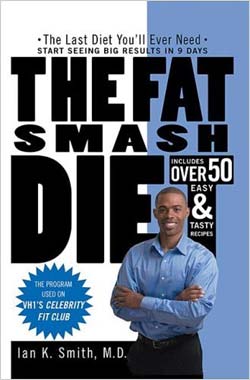 Here's the article (SERIOUSLY JUST LOOK AT THE PICTURES):
http://www.essence.com/fashion_beauty/beauty/articles/essences_biggest_loser
I've read through the materials and man…this seems easier than I thought. I will officially start the program tomorrow (Monday) and go through Phase I for 9 days. After that Phase 2 is 3 weeks and so on.
I was talking to Mister Mr. yesterday and I vowed that I would be in a bikini (gasp!) for our honeymoon. So that's my personal challenge.
I'm actually excited about this and ready to give up the junk I stuff into my mouth on a daily basis. I can't wait.
I'm going to (hopefully) update this weekly on Sunday's with my progress. If I seem ready to quit next Sunday will y'all, please, talk me out of it? Lol.
Now that I'm not working, I have more time to get my exercise in….yaaaaay!
If you're thinking about blasting fat…pick the book up (a steal at $12) and get started!
CIAO
Ebonee Monique
Posted by eboneemonique @ 31 May 2009