Yup… FOR FREE!!! Dance with me now…
:does the roger rabbit:
Anyhoo I am always looking for fantastic ways to fab your wedding without spending up all ya money… And this idea I just found is FABULOUS…
Babbies and gentlemen, I give you the Tabloo photocube….
The Tabloo Studio is a really cool tool by HP for your to print this fabulous item AT HOME with your regular printer FOR FREE….
oing my best Oprah imitation:
YOU GET A CUBE.
YOU GET A CUBE.
EVERYBODY.  GETS.  A.  CUBE!!!!!
And get this divas… NO tape, glue, staples. NOTHING just some scissors, a little folding and your cube is done….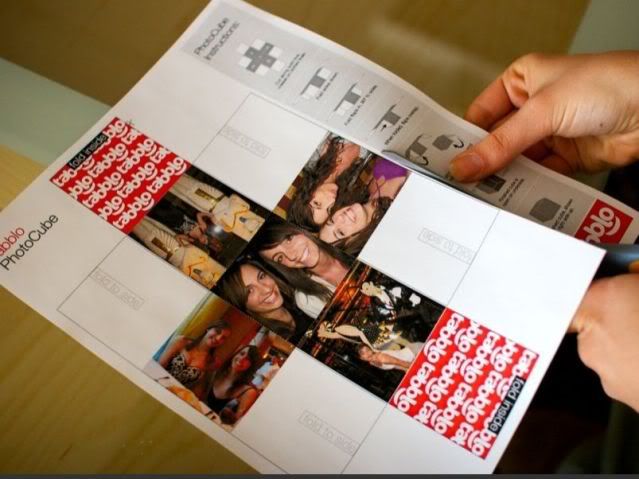 All you do is sign up for an account, upload five pics into the Tabloo Editor, and then print the PDF they make for you.  I suggest you print it on some nice heavy card stock for sturdiness!
So, I know what you are thinking that's cute & all, HDIC, but how can I use it for my wedding?  Girl, now you know I GOT YOU!
Well, first, this is a great way to showcase pictures of you and your fiance' throughout the years or even highlight your engagement photos, bridal photo shoot, or any kind of picture fabulousness that you'd like to share with your guests… These would be sooo cute piled up or spread out all over your guest book table or by your escort cards!
OR…
You could spread them at the actual dinner tables. You could even make on of the sides of the cube a table number and use this as table numbers…. Great conversation starter and it will get guests moving and interacting, to see all the pictures at the different tables!
OR…
You could use these as your escort cards…Damn, I'm good! Probably a wee bit time consuming but how cute would it be to find your seat at a wedding by getting one these photocubes with pics of the couple? FAB.YOU.LOUS.
OR…
You could use them as Favor boxes… How cute would that be.. Forget the tulle. Fill these photo cubes up with some M&M's in your wedding colors, some Hershey's kisses or whatever and you've got something way cuter than expected!
I could go on and on… But you get the point! this is a really cool way to added a wedding photo fab element to your wedding for little more than the cost of some cocktails for your girls at the  Wedding Photo Cube cutting party!LOL!
This is just too cute… Totally free and really really easy to make… I found these really detailed instructions to help you along. Easy PEASY!!!
I'm going to be making some for a party I'm throwing for Solstice… I'll show you my results when I'm done!
What do the Bab's think of this?
Stay fierce, fabulous, and FREEEEEEEEE from,