So if you've been following my latest posting over on the BAB Forum you know I am really trying to get my life in order and maximize the time I have to get the most done!  Currently I've adopted Google Calendar & Tasks as the holy grail of my life and I am LOVING IT!
SO I tried to figure out what are my great time sucks: things that I spend to much time doing or things that if I planned better for would be easier and quicker to do..
I have a whole list of stuff but the first thing on the list.
1. Cooking & Meal Planning
I loveee cooking and am a BEAST in the kitchen but I spend way too much time during the day trying to figure out what I"m going to cook and if I have all the dang ingredients for it! So I've decided to start weekly menu planning… At first I was like, "wahhhh, but this will take the fun out of just whipping up stuff" and then I got over myself…
What fun is it running around like a maniac at 4:00 trying to throw together a meal with one baby on my hip, one at my feet and a 3 year-old whining, "mommy, what are we going to eat…"
And its not like I can't deviate when I have time! So I decided to suck it on up and go for it! I made a weekly meal planner template.. And you know I had to pretty it up a bit.. LOL, You know how I DO!
So I came up with this!!!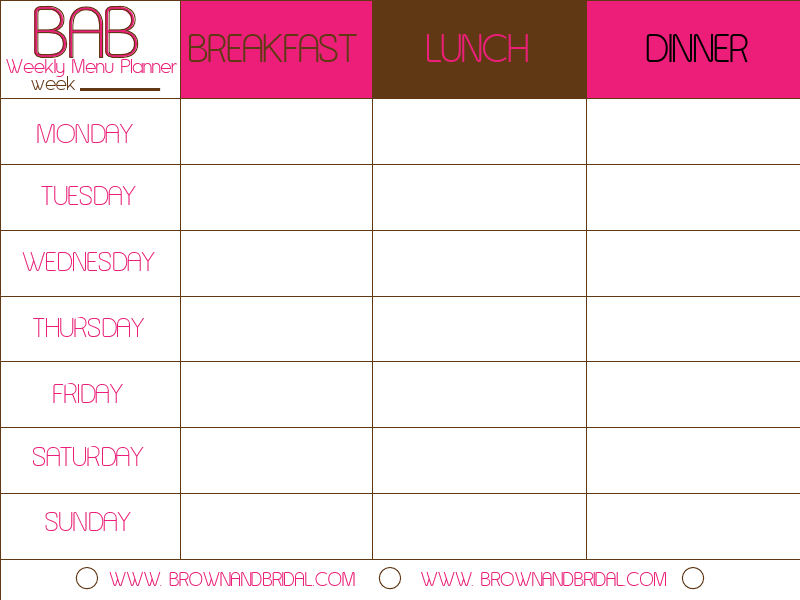 A simple basic meal planner with a dash of BAB fabulousness! I heart pink and brown!
Anyhoo you can get a copy of this for your own BAB Meal Planning Fabulous for yourself by clicking this fabulous little lank-a-link!
SO I'm ready for some ideas to fill up my pretty little menu planner! What ya got diva's?
P.S. I'm going to be making a grocery list to match this one soon. But I'm in the middle of dinner so I don't have time right now! But I found this one that is fabulous!
Happy shopping and happy planning, Divas!
Posted by thehdic @ 20 August 2009