I tweeted the short version of this but I'm interested in what the BAB's think…
I'm at a small diner that has free wifi & 3 outlets for all of us to work on… there are like 5 of us in the whole place! LOL So usually its never an issue…
So, I am working at the one that only has one outlet. About 15 mins after I arrive. This chick shows up and sees that I am using the outlet for my laptizzy.  She sits at the table about 3 booths away and says I'm going to use this outlet with you… I was like, "ummm Okay??"
She is holding a cord in her hand… My first thought is are they going to let you loop a cord all across the restaurant like that? She is LITERALLY pulling the cord across a walkway with a step but I don't say that cause hey maybe she knows something I don't!
But then I see the ratty ass extension cord she is attempting to hook both mine and her laptop too… Not a surge protector, just a regular ass extension cord…
So I ask to look at the little tag hanging from and it says 125V 10W…. I just had to buy a new adapter for my computer so I tell her my computer alone is 125V… I love my laptizzy like an "Obese youngster loves fluffy pastries"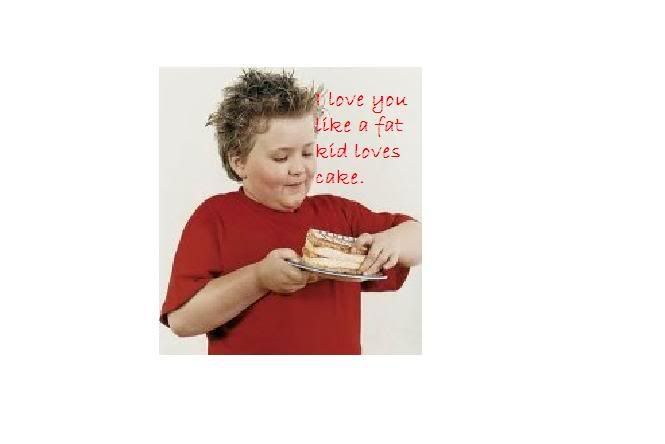 so ummm  this aint going to work…
I think we may power surge BOTH of our computers if we both hook up to the same outlet with your cord. I tell her I don't think I'm comfortable with using her extension cord. I tell her I would hate for both of us to have computer damage… I then offer to move from the outlet as soon as my computer has recieved a full charge from the wall outlet… About 30-45 mins… I apologize and explain that my computer is my life and I can't risk the damage.
So then she proceeds to tell me she does this all the time. why am I giving her problems… Nobody ever has a problem sharing… then she walks off  cussin me out in another language (greek).. And goes holler to the lady that " I'm not being fair and will not share with her"
My first reaction was to let my neck veins get to poping like Lil' mama's "Lip Gloss" and start hollering Like HeShe by Sheree, "WHO GON' CHECK ME BOO?"
BUT Jumping hard at silly tricks is not my style at all I'm too classy for that. Cause as Oran Juice Jones so eloquently said in his number one hit, I saw you and him walking in the rain,
"Silly rabbit,Tricks are for kids"
'So like Oran Juice instead of acting on "my first impulse was to run up on you And do a Rambo about to jam, slam blast both of you"  but I took his advice "And I Chilled…."
But seriously… I'm wondering how you ladies would have handled this? Should I have just worked it out with her?
She's still pissed! My concern is if we did have a power surge and f-up my computer she would have just been like oops my bad… And I would have had to take it to the Westside of Africa on that ass… And nobody want's that…
Posted by thehdic @ 5 September 2009