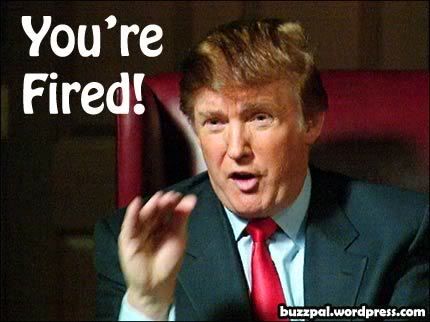 So maybe it wasn't as dramatic as what Donald would do on reality TV. But maybe you've have been recently laid off or even have had your job eliminated. Don't fret, there is much that can be done to make sure that your bills stay paid.
Take stock of what you have to put yourself in the best financial position:
-Vacation/PTO time.
-Get all of the details on any severance package that is offered (if applicable).
-Find out when your medical benefits run out and file for COBRA (Consolidated Omnibus Budget Reconciliation Act). Currently the federal government will pay 65% of COBRA premiums for employees who are laid off from Sept. 1, 2008, through Dec. 31, 2009. The subsidy will extend for nine months. However, individuals with an annual adjusted gross income of more than $125,000 and couples with an adjusted gross income of more than $250,000 will not be eligible for the subsidy.
-File for unemployment. Each state has differentrequirements for unemployment insurance. If you've become unemployed through no fault of your own (such as being laid off/fired) and you meet your state requirements for wages earned or time worked during the defined period, you will qualify for unemployment benefits.
-If you have stock options or other time sensitive benefits, speak to HR about execution rules.
- Make list of your liquid assets including stocks, bonds, 401K, IRA's, credit lines, and savings (see my last entry on how to plan to save for emergencies).
Cut back on your expenses:
-This means cable, going out, your gym membership and other extra luxuries.
Once you have all of your financial matters in order, it's time to seek out new employment. Stay tuned for my next entry
!
Posted by sweetpy @ 25 May 2009
Tags : finances , jobs , money , Rahel