I can't believe it, it has been almost a year since FI proposed to me! New Years 2008 he was on one knee putting the ring on the wrong finger! He was soooo nervous.
This year has flown by and changed my life tremendously. I have heard and read that planning a wedding can bring out the worse of people and boy do I know that now. Our relationship has been tested, but we made it through. My relationship with my family has also changed. In the end, I am pulling out of this a better, stronger person. And all I know is that, I love my FI and I can't wait to be his wife and start this new journey together.
I remember when Fi told my mom he wanted to marry me, she pooped her pants like he had just asked her. And what was her response: "I am not ready for this." Later I told her she doesn't have to be ready for anything. For some reason she thinks that she will be "loosing me." In all honesty, she lost me a long time ago. I was not going to be like her, and that was my motivation. She has ALWAYS lived under my grandmother's roof, never wanting to live on her own. She has not been in a relationship since I was little. I was never like that. I always dreamed of my own place, my own family and a career.
And I am making that happen — for me!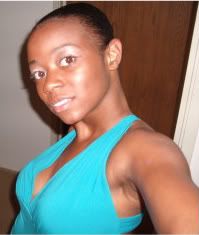 But in the end, at 23, the little girl image that my family is trying to hold on to is all grown up, and they needed to realize that. Unfortunately that realization had to be my engagement.
So now, relocation is my top priority so FI an I can live in the same city. Unfortunately if that doesn't happen, the wedding may be put off another year. But in the mean time I am slowly planning and getting stuff together hoping I can still have my July 26 wedding.
So far on my checklist, my dress and bridesmaid dresses have been a huge check. Because of my checks, I changed my colors. Originally I wanted lilac and white, but now it is more of a raspberry and soft pink, with lilac accents. That is likely to change knowing me, but we will see.
But, that is my life in a very small nutshell and I am looking forward to sharing my wedding journey with all my BABs.
Posted by Dricka @ 6 January 2009
Tags : Dricka