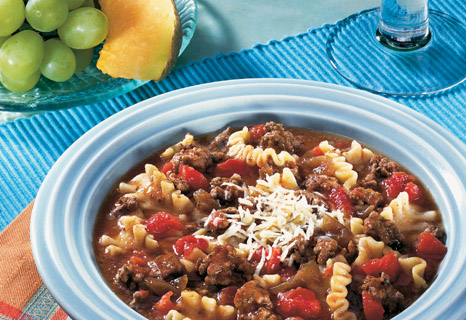 "Ohhh the weather outside is frightful…" OK so maybe I cant really sing, but I can cook. I also can take a recipe and change it to reflect exactly what my family enjoys.
A few years ago I found a recipe for Lasagna soup in one of those recipe books that you find starring at you, right there on the check-out aisle. Of course I purchased the book, took it home and made the recipe the same night. My family thought it was "good". Since that time, Ive changed a few things to bring it into my own, and now they find it to be "Great". I recently made it for my family again on a cold night and they enjoyed it dearly. I hope you give it a try and make it a part of your family collection.
I serve this soup with grilled cheese sandwiches filled with Wisconsin Extra Sharp cheddar on Thick sliced white bread.
Ingredients:
1 pound ground sweet Italian sausage or turkey Italian sausage
1 small onion, chopped
1/2  clove or fresh garlic chopped
1 (heaping) Tbsp of Dry Italian Seasoning
3  cans of Beef Broth
1 can (14 .5 ounces) diced tomatoes (I use the italian seasoned )
1 1/2 cups Campanella pasta ( or corkscrew )
1/2 cup sliced pepperoni
Shredded Mozzarella Cheese or Italian Blend Shredded Cheese
Directions
Cook the sausage , onion, and garlic in a large saucepan over medium-high heat until it's well browned, stirring often to break up the meat. Pour off any fat.
Boil pasta. (Do not fully cook, leave slightly undone as it will soften later)
Stir the broth, tomatoes, pepperoni and Italian seasoning in the saucepan with the meat mixture and heat to a boil.
Stir the pasta in the saucepan. Reduce the heat to low-medium and cook for 10 minutes or until the pasta is tender.
I then scoop each serving into its own bowl, and top with a hearty amount of shredded mozzarella cheese.
Posted by Candra @ 17 December 2009