Hey BABBBIES!!!
The twinnations have been whooping my bootay… But they cute so they are allowed!)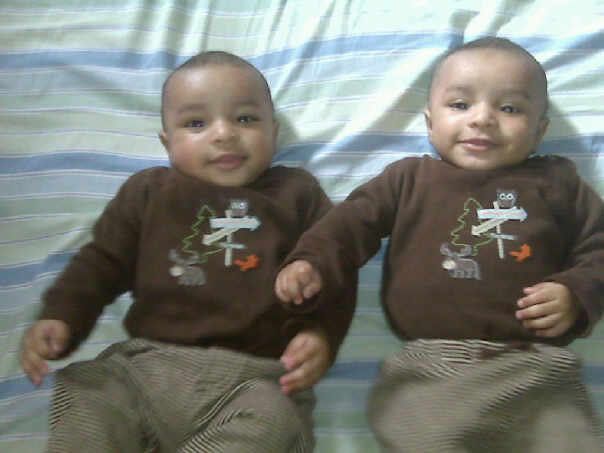 With all that cuteness Operation Happy Marriage and my Babbie blogging has been  on the back burner but I'm back Babbie Blogging for all you Beautiful BAB's!  ( ALLITERATION  is fun! You betta ask somebody!)
Anyweezy, for today it a very quick and easy challenge that will let you spend 5 minutes doing something that I am pretty sure all you BABBIES love doing, eat something delicious, and advance your Operation Happy Marriage progress…
You ready, girl?!
Umm Diva.. Put down the nachos and listen..
I want you to go Kiss ya man… I don't mean them weak ass hi and bye kisses we all have given as we are flying out of the front door with your caramel mocahino half soy double whipped latte In one hand and your fierce new asparagus green snakeskin Prada Briefcase in the other.  That bag is fierce, girl but NO,  I'm not  talking about that.
I'm talking about one of those put in on him, I'm the kind of bad girl your mama told ya about, you can call me trollop, lady in the streets, freak in the sheets, SWV I get so week in the knees, Silk Meeting in my bedroom,  Janet Jackson, Anytime, Anyplace KISSES…
If you know what I'm talkin' 'bout.  Let the CHHUCCH SAY AMEN!!!
Get up from the computer.
Go put on some lip chap if you need it.
Then find a piece of chocolate, fruit, candy, whatever but it has to be something delicious, preferably in a flavor that your husband enjoys too.
Did you find it?
Okay, Eat it… Delicious right?… Good!
Okay, now go find ya man. Wherever he is in the house, interrupt whatever he is doing right now!
If he has the Rock Band guitar in his hands, the lawnmower, the broom(ya right), the baby, whatever….
Take it from him. Say no words, grab his face and lay it on his ass…
FOR FIVE MINUTES.
Yup five minutes of pure kissing, Like scrait up making out…
BUT that is all, Just kiss, kiss, and kiss him like that is all you and he have ever done.
Kiss him like you never want to stop.
Kiss him with all the love and passion that you have ever felt for him.
Kiss him like he looks like this everday.
Kiss him for five minutes, and then walk your tail away. And put a little stank in your walk when you walk away (Even if you have no booty, you always gotta put little stank in the walk,boo!)
Now I can't promise that he won't try to follow you. If he does you can decide what to do next: Play coy and continue with your daily Babbing and reap the benefits of that kind of kissing later, or whip it on him to completion and do what grown folks do right then.
Personally, I will be taking the coy route and letting him walk around in a daze all day… tee hee.. Whatever you do two things will happen he will be left wondering why you tasted so dang on good and wondering how on earth he got so lucky as to have such  sex kitten, gorgeous, fierce kitty diva, and all around bomb ass wife AKA YOU.
So you got it?
The kiss should look  bit like this:
and he will look like this:
and this:
and finally our desired effect of…. THIS:
That's right Jada… Every once in a while you gots ta lay ya husband's ass out…
Me and the babbies will be discussing the fruits of our efforts on the forum here… Join up and post your experiences… I promise you there will be some Operation Happy Marriage fabulousness goings on…
Now get ya tail up and get to kiss…
Stay fierce, fabulous, and kissing ya man,