I may be a wee bit biased when I say: I love the Simmons family.
I have watched Run's House since the first season and am excited for the newest season to begin airing.  (July 16 10 PM EST)
Since I only know what is shown on TV, I decided to research Rev. Run and clan.  I won't bore you with all the details that I found, but I did find out that Rev. and Justine are being published.  As you may know, Rev. ends every episode with his Words of Wisdom.  I think his words can be used not only for parents, but for everyone.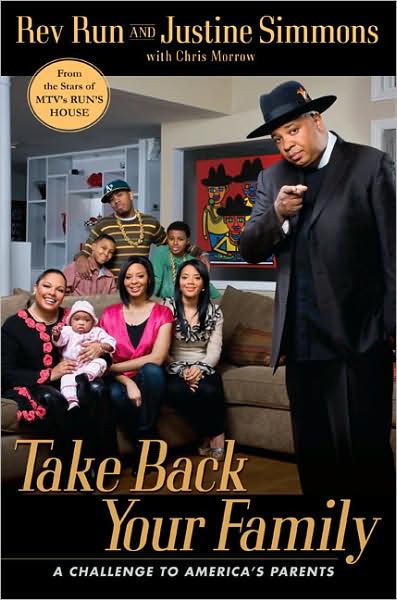 The description of the book reads…
An icon of hip-hop, a father of six, and an ordained minister, Rev Run has developed a parenting style that is in a class by itself. With his wife, Justine, he launched the blockbuster reality series Run's House on MTV, now filming its fifth season. The show has proven wildly popular in large part due to the way the Simmons family responds to very twenty-first-century issues. Emphasizing firm boundaries, noble values, discipline, and faith in an age marked by shallow materialism and fragmented families, Rev Run now shares the proven principles that have given his children a firm foundation, including:

• Run your family as the COEs: Chief Officers of Everything.
• Understand that you can never correct what you don't confront.
• Lead by example, not by preaching: Hypocrisy and parenting are a destructive combination.
• Today's fast-paced world can often make children feel small; your job is to help them feel large.
• Older children need more rules and parental involvement, not less.

Reaching an average weekly audience of 4.1 million viewers, Run's House speaks to America's fascination with high-profile parents. Take Back Your Family brings home the behind-the-scenes wisdom of hip-hop's first family to everyone seeking solid guidance for raising a new generation.
You can pre-order it at Barnes & Noble, Amazon or Borders. The book will be on shelves August 5.  There will be a book tour beginning on August 5 in New York. (Other tour dates can be found here.)
Posted by Charanne @ 16 July 2008